Looking down Newhaven Road to Main Street and beyond - January 2008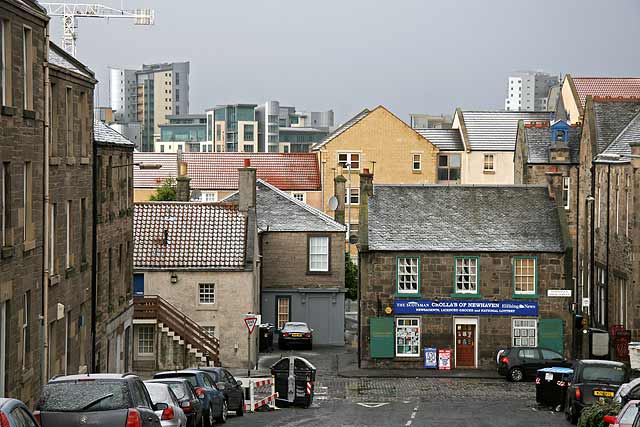 © Copyright: Peter Stubbs - please contact peter.stubbs@edinphoto.org.uk Photograph taken January 3, 2008 at 2pm
Main Street, Newhaven
Architecture
This view looks to the north down Newhaven Road past new-style large Wheelie Bins and discarded Christmas tree and road works, to Main Street. Both streets are still surfaced with cobble stones.
There are many different styles of architecture here.
Crolla's
The shop in Main Street at the bottom of the hill is:
Crolla's of Newhaven (Newsagent, Licensed Grocer, National Lottery).
Crolla's shop has been here for many years.
The Edinburgh & Leith Post Office Directories listed:
- 1922-23: B Crolla (Confectioner) at 28-29 Main Street, Newhaven.
- 1930-31: B Crolla (Confectioner) at 28-29 Main Street, Newhaven.
- 1940-41: B Crolla (Confectioner) at 28-29 Main Street, Newhaven.
- 1950-51: A Crolla (Confectioner) at 28-29 Main Street, Newhaven.
- 1961-62: A Crolla (Confectioner) at 28-29 Main Street, Newhaven.
Victoria Primary School, Annfield, lies immediately to the right of Crolla's shop in the photograph above. The school can be seen better on the black + white photo than on the colour photo.
Newhaven Place
Main Street was part of the main road from Granton to Leith until Newhaven Place was built a few yards further north to by-pass the old village of Newhaven.
Newhaven Place passed immediately to the south of Newhaven Harbour,
Newhaven Fishmarket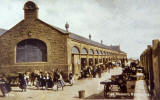 ©
and Croal's kipper factory.
The lighter houses in the middle-distance on this photo were built in the 1990s on the ground where Croal's kipper factory stood until it was demolished and the business moved further west to new premises in West Harbour Road, Granton.
Leith Western Harbour
The large new apartments the distance, including Platinum Point have been built on land recently reclaimed from Leith Western Harbour.
They are part of Edinburgh Waterfront, a major series of developments announced in 2003 to bring 6,500 new homes to the Leith and Granton, areas of Edinburgh, beside the Firth of Forth, over the next 20 years.
Recollections
1.
Jack Craig
Silverknowes, Edinburgh
Thank you to Jack Craig who wrote:
Newsagents
"The newsagents shop at Main Street, Newhaven was the house that my mother was born in. Number one Peacock Place.
The picture is taken from what was called The Whale Brae. Apparently there was a whale washed up on it at one time.
My grandfather, my mother's father, was William B Jarvie. He was a master of more than one trawler. (I'm a bit vague re. the history). I think he got the 'B' because there was two Jarvies called William. So the other (no relative) was 'A'.
My Mother was Jean Sinclair Jarvie and married George Craig Master bootmaker of 33 Chambers Street."
James Craig, Silverknowes, Edinburgh: July 20, 2008
Recollections
2.
Fraser Orchieson
Newhaven, Edinburgh
Thank you to Fraser Orchieson who wrote:
Crolla's shop
"I am a ninth generation Newhavener.
I've just been reading the Jack Craig's comments (above) re Ben Crolla's shop, which now is run by Ben's Grandson, Matt .
I think that I'm related to Jack Craig. My father, Ian Orchieson, formally of 259 Newhaven Road, remembers playing with Jack and his sister at their house on the outskirts of Edinburgh before the war."
John Fraser Orchieson, Newhaven, Edinburgh: July 30, 2008
I've now forwarded Jack's email address to Fraser, so I hope that the two are able to make contact with each other.
- Peter Stubbs: August 2, 2008
Recollections
3.
Roy Cummings
Burlington, Ontario, Canada
Thank you to Roy Cummings for posting a message in the EdinPhoto guest book.
Roy wrote about:
- Peacock Inn (here)
- Shops in New Street (below):
"What is now Crolla's shop was the home to two of my Grand Aunts, sisters of ma grannie. Aunt Julia Gillies was on the left and Aunt Jean Hannan on the right.
Crolla's was farther along Main Street at one time."
Newhaven Victoria School
"Just to the right of the hotel entrance was the boys' playground for Newhaven Victoria School as it was known then."
Family
"All this was in the 1940s and 1950. I will be 70 this year.
Both my families have long Newhaven histories. The Cummings originally came from Harwich, Essex around the mid 1880s. The Batchelors came from Anstruther. My favourite family name is Hannah Moncrief Scotland Smith.
Oral history states that one ancestor was the first female fishmonger in Newhaven."
Roy Cummings, Burlington, Ontario, Canada: May 12, 2009
Recollections
4.
Frank Ferri
Newhaven, Edinburgh
Frank Ferri wrote:
Crolla's Shop to Close
"For over 100 years, three decades of the Crolla family have traded in Newhaven. Now, its present owner Mark Crolla has to surrender his business, despite the area's ever increasing population. This is largely due to competition from the recently opened Asda Supermarket. *
* The new Asda 24-hour supermarket opened nearby, on the north side of Lindsay Road, in December 2008.
Frank added:
"I've used Mr. Crolla's Store for over 50 years, firstly when it was situated further west on Newhaven Main Street, before it had to move when the village was redeveloped in the 1970s, which incidentally, depleted the entire shop population of the whole village.
I am very saddened that Crolla's is about to close. Mark Crolla not only provided a very valuable service for the forgetful or last minute shopper, but went out of his way to serve the elderly and infirm in times of need, especially in bad weather conditions, by making personal deliveries to those unable to get out.
Frank Ferri, Newhaven, Edinburgh: March 6, 2010
Newhaven

Newhaven
Old Photos

Newhaven
Postcards

Newhaven
Other Pages