Dumbiedykes Survey Photographs - 1959 Survey
St John's Hill
St John's Hill - 1959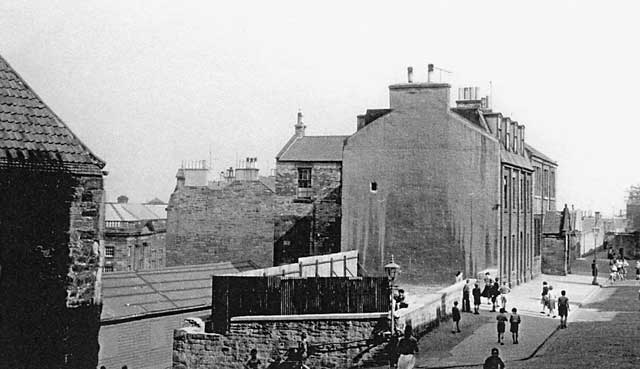 © Reproduced with acknowledgement to Edinburgh City Libraries and Information Services Neg. C919F
St John's Hill
Rick Evans wrote:
"Does anyone out there have any pictures of St Pat's school, apart from the one you've already got of St John's Hill with all the kids in it? I'd love to see one on the site if its possible."
Rick Evans, Melbourne, Victoria, Australia: August 1, 2010
Here is a view of St John's Hill in the Dumbiedykes district of Edinburgh, close to Holyrood Park, in 1959. The street appears to have been taken over by children, rather than traffic. Was there a school nearby?
Answer 1
Thank you to Ian Mycko, Gilmerton, Edinburgh, for providing the answer. Ian wrote:
"Yes, St Patricks R C Primary School was there just to the right of your photo. I was a pupil there from 1963 - 1966. thanks for the memories."
Answer 2
Eric Gold, East London, added:
"I saw an ad asking about a school in St Johns Hill. It was St Patrick's. I was a pupil there from 1955 until 1960, then St Anthony's in Leith until 1963, then I worked on the Queen Mary and other cruise liners.
I started of at St Ann's in the Cowgate from 1953 until 1955.
I wish I could get a photo of that school as it was a kids home in the Victorian era until about 1910, a teacher told me so."
Eric Gold: February 14, 2006
St Ann's Reminiscences Group
I don't have a photograph of St Ann's school in the Cowgate, but this web site may be of interest to Eric and others. It was set up in 2001-02 by the St Ann's Reminiscences Group, Cowgate Edinburgh.
The large photograph above was one of several dozen taken in 1959 by Adam H Malcolm in the Dumbiedykes area of Edinburgh. These photographs were taken shortly before the houses were demolished. Adam H Malcolm donated these photographs to the Edinburgh City Libraries in the 1960s and they can now be found in the Library's Edinburgh Room Collection.