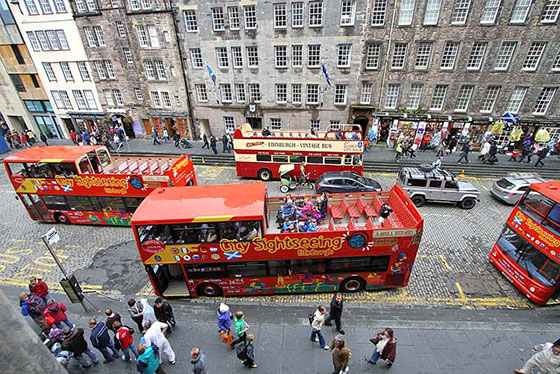 © Peter Stubbs Photo taken during the first week of the Edinburgh Festival Fringe August 12, 2011
"Now, in 2014, there are several companies (all subsidiaries of Lothian Buses) offering tours around Edinburgh in open-top buses: The tours are:
- Edinburgh Tour (Green buses)
- City Sightseeing (Red buses)
- World Heritage (Brown + orange buses)
- MacTours (Red + cream old Routemaster buses)
- Majestic Tour (Blue + yellow buses)
- Bus & Boat Tour (Green + yellow buses featuring Forth Bridge picture)
Further details can be found on this Edinburgh Tour internet page.
Each of the first five tours above operates a frequent service throughout the day. Each tour lasts for about an hour, but tickets remain valid for 24 hours. Adult fares are £14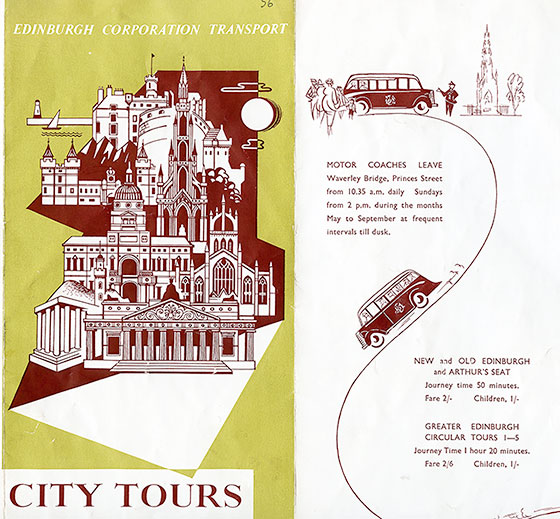 © Copyright: Peter Stubbs - please contact peter.stubbs@edinphoto.org.uk
In 1955-56:
- There were no tours in open-top buses. Small single decker coaches were used.
- The adult fare was 2/- for tours lasting 50 minutes
and 2/6 for tours lasting 1 hour 20 mins.
2/- = 10 pence. 2/6 = 12.5 pence
Please click on one of the thumbnail images below to see images from the a 1955-56 leaflet.
City Tours Leaflet

Cover and Map from 1955-56 Leaflet
Peter Stubbs, Edinburgh: August 25, 2014