Edinburgh 'Then' and 'Now'
Johnston Terrace
and Edinburgh Castle
John Croal, Coachbuilders - 1915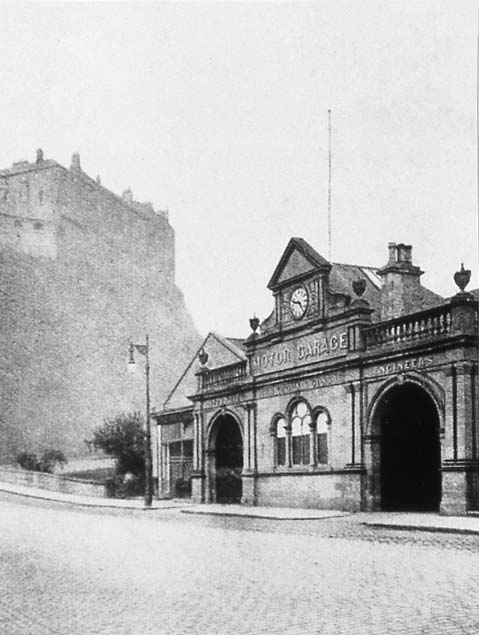 © Reproduced with acknowledgement to The Museum of Edinburgh
2007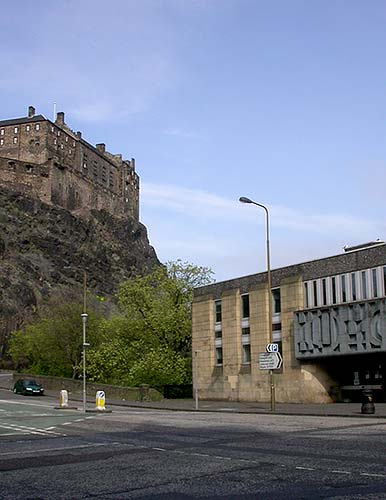 © Copyright: Sarah Dalrymple, Edinburgh - with minor Photoshop adjustments
Edinburgh 'Then' and 'Now'
Tollcross
The Last Horse-drawn Tram - Tollcross - 1907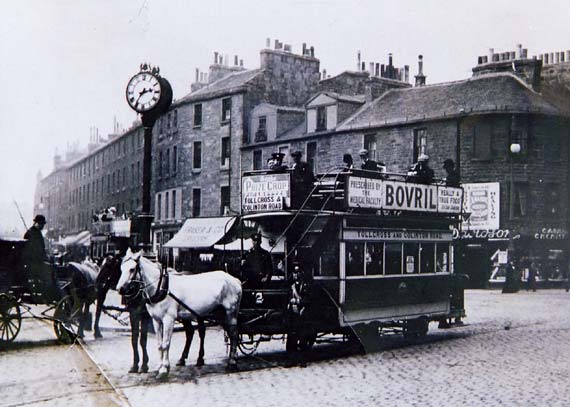 © Reproduced by courtesy Lothian Buses plc
2007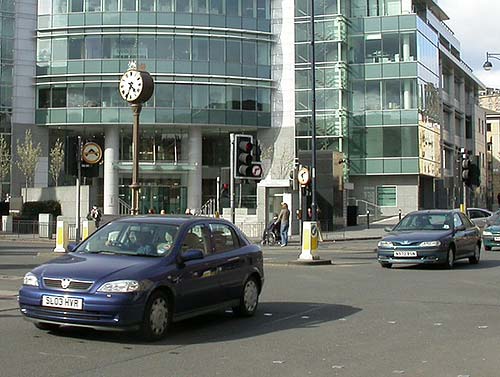 © Copyright: Sarah Dalrymple, Edinburgh
1.
Photo - 1907
Edinburgh's Horse-drawn Trams
The horse-drawn tram system in Edinburgh came to an end on 24 August 1907, with the opening of the Craiglockhart cable car system. The cable car system was introduced into Edinburgh between 1898 and 1907. The Craiglockhart route was the final part of the cable car system to be opened.
Here is a view of the tram passing through Tollcross.
Tollcross is a junction about half a mile to the south of the West End of Princes Street. One of Edinburgh's tram depots was located at Tollcross for many years.
The City of Edinburgh Council's web site includes a selection of photographs from the Edinburgh Room at Edinburgh Central Library.
Here is the caption that they have added to the photograph above:
'"The horse drawn tram service began operating in November 1871 and finished in 1907.
The early service offered a route between Bernard Street in Leith and Haymarket. By 1892, 84 cars were trundling along 18 miles of track. In June of 1893 Edinburgh Corporation acquired 60 cars and 600 horses.
The Corporation sold the operating side to a firm called Dick Kerr & Co. who created the Edinburgh & District Tramways Company who then ran the service within Edinburgh.'
This is one of three photos that claim to show the last horse-drawn tram.
HORSE-DRAWN TRAM PHOTOS: Close-up Photo At Tollcross.
2.
Photo - 2007
Thank you to Sarah Dalrymple, Edinburgh, for taking this recent photo from the same location. This is one of several photos that Sarah has taken, comparing Edinburgh 'Then' and 'Now'. Sarah's photos have been added to the Flickr web site.
- If you click on this Flickr link it should take you to a page showing Sarah's photos.
- Then you can click on the individual photos to enlarge them and read the comments that people have written about them.