Reginald P Phillimore
Postcard
39 Castle Street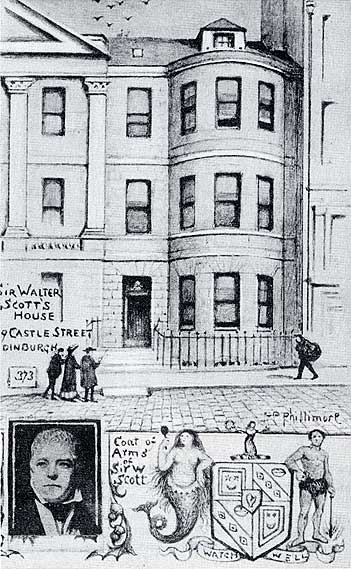 © Reproduced with acknowledgement to Donald Lindgren and The European Library
39 Castle Street
Here is another postcard by Reginald Phillimore - a view is of 39 Castle Street, the house and law office of the author Sir Walter Scott. St the foot of the card is a portrait of Sir Walter together with his coat of arms.
38 Castle Street
From 1892 until 1925, the premises of Edinburgh Photographic Society were across the road from Sir Walter Scott's House at 38 Castle Street (sometimes described as 38, North Castle Street.)
The reproduction of the postcard above appeared in the book 'The Work of Reginald P Phillimore in Old Picture Postcards' by Donald Lindgren [ISBN 90 288 5264 6 / CIP]. Reproduced with acknowledgement to Rev. Donald Lindgren and European Library, Zaltbommel, Netherlands.