John Center
1830 - 1914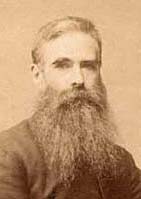 © Reproduced with acknowledgement
to Veronika Ihlenfeldt
Photograph
Above is an enlargement of part of a carte de visite photograph of John Center. It was taken in the studio of James Howie, 3 Princes Street Edinburgh in 1888 when John Center was aged 57.
The studio was at the East End of Princes Street, sold a few years later to allow the North British Hotel (now the Balmoral Hotel) to be built.
Birth
John Center was the youngest child of James and Isobel Center.
He was baptised 15 January 1831 at Kildrummy, Aberdeenshire, Scotland.
Marriage
John married Jean (b.1837 or 1838) in August 1860 at Kildrummy. She was also from Kildrummy, and was daughter of John's father's brother, Joseph.
At the time of his marriage, John was a photographer living at 73, George Street, Aberdeen. Jean was a dressmaker, living at Kildrummy.
Family
John and Jean had 10 children, the first two born in Kildrummy, Aberdeenshire. The others were born in Edinburgh.
Further details of the Center family members, including names, dates of birth and photographs can be found on this genealogy web site.
Business
John lived in:
- Aberdeen (photographer) then
- Edinburgh (photographer and bagpipe maker) then
- Australia from 1908 ( bagpipe maker at West Brunswick)
Death
John Center died at Brunswick West, Melbourne, Australia on 22 December 1914, and was buried in Coburg Cemetery - Grave A521 (unmarked) *.
* BUT See, also, the photos of John Center's grave in the 'Burial' paragraph below.
In his will, there appears to have been no specific mention of his photography, but he specified how his bagpipe business was to be treated:
John Center's Will
[extract]
"To my son James, I leave the good-will of the Bagpipe-making business with working plant consisting of Electric Motor, turning lathes, circular saw bench, turning and boring tools and the wood that may be hand bored and roughed down, and if he stays and works in the shop where the business is at present carried on, that he pays a rent of 4/- per week and whatever material may be on hand, consisting of wood in logs, ivory, sterling and German silver, jewellery in glass case, to be valued, and that he pay over the value in money to my son William."
John Center
Thank you to Veronika Ihlenfeldt for details above.
John Center was a brother of her great great grandmother.
John Center
Continuing Interest
I have received messages from several bagpipers, living around the world, all speaking highly of John Center bagpipes that they own.
Burial
Thank you, also, to Steve Anderson, a bagpiper from Melbourne, Victoria, Australia for sending me photos of John Center's gravestone in Coburg Pine Ridge Cemetery in Melbourne
John Center and the Senter Family

Most of the family were named Senter. John used the name Center.

George was Center (marriage records), but Centre (christening records).

Family

Addresses

Cartes de Visite

John Center By John Center: 1 2 3 4 5 6 7 8

Bagpipes