Studio
131 Princes Street
John Horsburgh had a photographic studio at 131 West Princes Street from 1868 until 1898. When he moved into these premises, the proprietors of premises in this part of the street owned West Princes Street Gardens.
John Horsburgh's studio and the other buildings were on the north side of Princes Street. The gardens were on the side side of the street, filling the valley between Princes Street and Edinburgh Castle.
The view below is approximately as John Horsburgh would have seen it from his front window in Princes Street. The fountain was cast in France, transported to Edinburgh in 122 pieces and installed in West Princes Street Gardens in 1872.
West Princes Street Gardens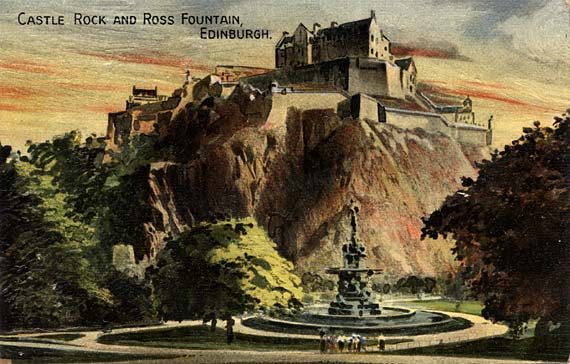 © For permission to reproduce, please contact peter.stubbs@edinphoto.org.uk
In 1876, John Horsburgh was a member of the Committee that authorised the hand over of the gardens from the proprietors of Princes Street Premises to the City of Edinburgh.