Stereoscopic Views
The Waverley Series
Royal Institution, now Royal Scottish Academy, The Mound, Edinburgh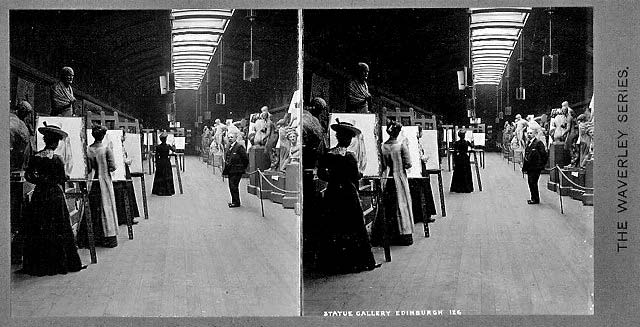 © Reproduced with acknowledgement to Allan Dodds, Nottingham, Nottinghamshire: December 3, 2011
Stereo Views
The Waverley Series
Thank you to Allan Dodds for allowing me to reproduce this stereo view of the Statue Gallery, Edinburgh, together with these views, also from the Waverley Series:
John Knox House
Wellington Statue
Statue Gallery, Edinburgh
When I first saw the stereo view at the top of this page, I wondered where Statue Gallery, Edinburgh was.
However, that question is answered in the Reply 1 below.
Reply
1.
Allan Dodds
Nottingham, Nottinghamshire, England
Allan Dodds has been enquiring as to where the Statue Gallery might have been in Edinburgh.
Allan writes:
Statue Gallery
"I've just received this fascinating response from , who wrote:
Royal Scottish Academy
"How interesting. I assume your slide presents a view of The Statue Gallery in the Royal Institution (the building called the Royal Scottish Academy since 1910 when there was a great re-shuffle or arts organizations in Edinburgh).
This operated between the 1830s and 1910. It was a long, corridor-like gallery with casts of figures down one side and casts of reliefs (mostly) down the other.
It was open for copyists and students during the nineteenth century and was especially an important facility for aspiring women artists who had otherwise limited access to study facilities."
Joanna Soden, Collections Curator, Royal Scottish Academy
Allan Dodds: Nottingham, Nottinghamshire, England: December 8, 2011