Dumbiedykes Photographs
Dumbiedykes Road
The Green outside No 42
Elizabeth Bottomley and Jean Aithie in the snow
Outside No 42, Dumbiedykes Road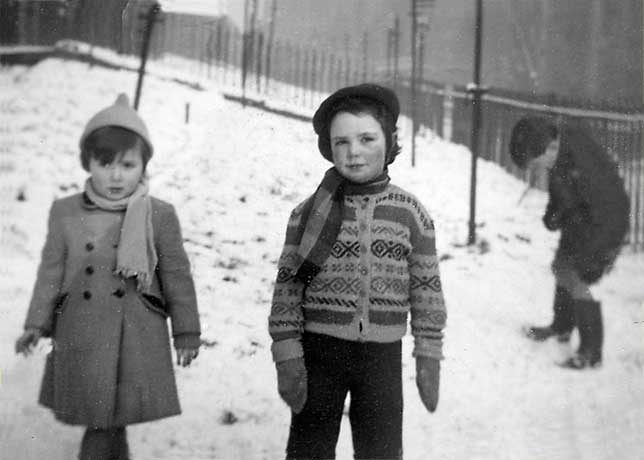 © Reproduced with acknowledgement to Jean Rae, who lived at 34 Dumbiedykes Road until its demolition in the 1960s
Dumbiedykes Road
The Green outside 'The Balconies' at No 42
Thank you to Jean Rae who wrote:
In the Snow
"Here are Elizabeth Bottomley and Jean Aithie in the snow on the green outside No 42, Dumbiedykes Road. The small boy in the background may be Peter Bottomley."
Dumbiedykes Road
No 42 Dumbiedykes Road is on the left-hand side of the road, just out of the picture in the distance in this picture:
Recollections
1.
Ray (Raymo) Graham
Billingham, Durham, England
Ray Graham wrote:
Boy in the Background
"Jean Rae (above) says that the boy in the background could be Peter Bottomley.
Well, I think it could be me. I always used to wear wellies and shorts and it does look like me.
Thanks."
Ray (Raymo) Graham, Billingham, Durham, England: August 30, 2010