Thomas L Devlin's
Trawlers
TL Devlin's Steam Trawler, 'Daily Chronicle'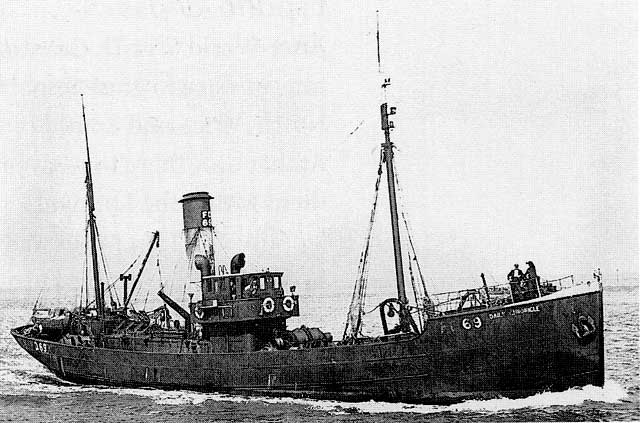 © Reproduced with acknowledgement to Buccleuch Estates and to Argyll Publishing
Thomas L Devlin's Trawlers
Trawler owner, T L Devlin, had a fleet of trawlers that sailed from Granton Harbour. Here is one of them.
Thank you to John D Stevenson, Edinburgh, for telling me:
"Devlin trawlers had yellow funnels (black at the top) with large blue 'D' painted on them."
Question
1.
Bill Blow
Bill Blow wrote:
Question
Granton & Leith Trawlers
Funnel Markings
"I have for many years worked on a database recording the funnel markings of trawler owners through out the UK. With the help of many subscribers, it now amounts to over 2000 owners' funnels.
Could I enlist the help of your site and ask if regular users of the site could forward any knowledge they have of the funnel markings for trawler owners based at Granton or elsewhere in the Firth of Forth?"
Bill Blow: July 22, 2012
Reply to Bill?
If you have any information to pass on to Bill in response to his question above, please email me - then I'll pass on his email address to you.
Thank you.
Peter Stubbs, Edinburgh: July 24, 2012
Update
I spoke to John Stevenson, Edinburgh, yesterday. He has been a regular contributor to the EdinPhoto web site on Granton and Leith shipping topics.
He told me that both he and Andy Hall, Newcastle upon Tyne, provided all the information they had relating to funnel markings to Bill Blow some time ago.
Perhaps somebody else with will email me now with more info on this topic.
Peter Stubbs, Edinburgh: July 26, 2012