Hugh Leckie & Sons
Coal Yard
St Leonard's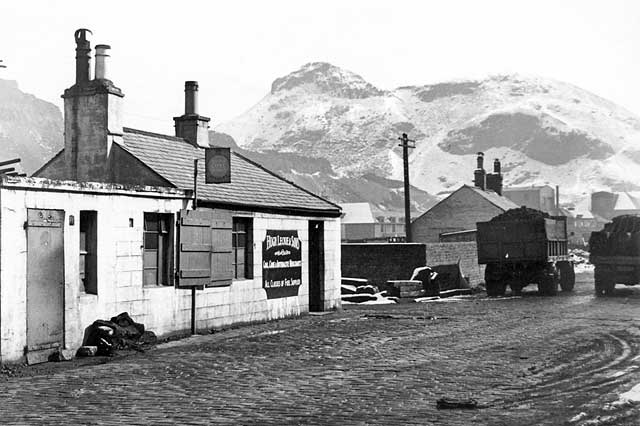 © Reproduced with acknowledgement to Ron Leckie, California, USA
Leckie's Coal Yard
Thank you to Ron Leckie, California, USA, for sending me this photograph of his family's coal yard at St Leonard's, taken on a cold winter's day.
Ron wrote:
Winter
"What you see is the offices of Hugh Leckie and Sons, coal merchants, on a cold winter's day in St Leonard's Station. The snow is on Arthur's Seat and there is the remains of slush on the cobblestones. I took this photo around 1965."
Family Business
"My grandfather was the Hugh Leckie in the firm's name and my Dad, also Hugh Leckie (Jr.), and his brothers, Willie, Jimmy and John were the sons. Their sister, Jenny Bonar, worked in the office. It was a real family business. They had several coal lorries, a "tipper" truck, and a couple of vans. With some of my cousins, I helped with delivering coal on weekends and school holidays – some times it was the 28lb packaged fuel which we delivered to shops to sell. Other times, I'd carry the full 112lb bags."
Coal Deliveries
"I remember some cold days, when the coal bags would be so frozen that when you had emptied them, they still retained the same shape and you would have to jump on them to flatten them for stacking. Another memory was the first time I went out with my dad and his crew. We got to the last delivery of the day and the men looked at me and said, "Do you want to deliver the last one to this next stair?" Being the boss's son, I wanted to show that I could pull my weight, so I said, "sure!". They pointed to the stair and said, "It's easy... just go up to the last door you come to." They weren't kidding as it was a stair on the High St, just down from John Knox' house and I was exhausted when I got to the top of what I discovered to be 5 flights to find that "easy last door". :-)
It was enriching experiences like this that helped make me decide to use my brain instead of brawn, go to University, and get into electronics. However, I would not have missed those days in the coal business for anything."
Ron Leckie, California, USA: July 26, 2007
Here is a another picture sent to me by Ron Leckie. It's a photo of one of the company's lorries, following an accident when it 'ran away' down the steep Arthur Street and into Holyrood Park.
Recollections
1
Bryan Gourlay
Biggar, Lanarkshire, Scotland
Thank you to Bryan Gourlay who also remembers the coal yard at St Loenard's, Edinburgh
Bryan wrote:
Coal Deliveries
"It is interesting reading Ron Leckie's unfolding story of the Leckie family's coal business. My dad also had a coal business at St Leonards for a while and knew some of the Leckie family.
I well remember regularly seeing the Leckie lorry delivering coal down Dalkeith Road, around the junction with Prestonfield Avenue.
Brian Leckie
"For a period of time in my teens I knew a Brian Leckie – maybe one of Ron's cousins? I think he lived in Dalkeith Road. He wore a maroon school uniform – perhaps George Watson's?
I remember meeting him, when we were about school-leaving age, and was surprised to hear him say he had left school and gone into the coal business. I lost touch with him after that and, I suppose, like Ron, he moved on to other things.
There are certainly very few coal lorries around nowadays."
Haulage
"My dad went into the haulage business. I remember him going to East Lothian farms and loading two hundred-weight (224 lbs) bags of barley to go to the breweries. I tried it once or twice and quickly decided it was not for me."
Brian Gourlay, Biggar, Lanarkshire, Scotland: July 31, 2007
Recollections
2
Eric Gold
East End, London, England
Thank you to Eric Gold who wrote:
Snow
"I like the Leckie's coal yard photo as it brings memories back to me. My cousin had a wee hoose near there, and Arthur's Seat in the background all covered in snow is great."
Eric Gold, East End, London: July 31, 2007
Recollections
3
Ron Leckie
California, USA
Thank you to Ron Leckie, grandson of the founder of Hugh Leckie & Son Coal Merchants at St Leonard's Edinburgh, for writing to tell me about a couple of his film clips that can now be viewed
Film Clips
Hugh Leckie & Son
and
The Innocent Railway
"I found two of my old 8mm movies, had them digitized then spent time cleaning them up as best I could, then that Jack Gillom posted them on the Lost Edinburgh site on YouTube for me. Here are links to them
- Hugh Leckie & Son - Yard at St Leonard's, Edinburgh: delivering coal in winter . (This was filmed in 1965.)
- The Innocent Railway - from St Leonard's through Holyrood Park, Edinburgh.
Ron Leckie, California, USA: May 24, 2015
Hugh Leckie & Sons - Coal Merchants