St Leonard's District Photos
Photo 7
South Richmond Street
See Answer below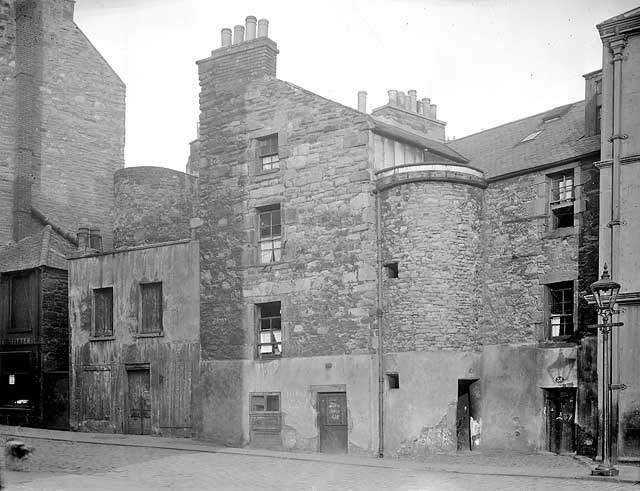 © Reproduced with acknowledgement to David Gordon, Old Town, Edinburgh
St Leonard's District - 1920s
Which Street
The buildings here are distinctive, but I don't recognise the street.
There is a name on the arm across the lamp post. It can be almost read on the original negative, as ".......OND STREET".
So perhaps the street might be:
- Drummond Street
- North Richmond Street
- South Richmond Street
- East Richmond Street or
- West Richmond Street
Perhaps a large-scale map of the area might help here.
Houses and Shops
The number on the house at the bottom right of the photo is '38' and the number of the entrance on its left, written in chalk on the wall, is '36'.
I think the lettering on the dark shop at the bottom-left of the photo says:
"GAS FITTER"
Collection of Photos
The image above is taken from a collection of whole-plate negatives. The photos were probably taken around the 1920s.
If you recognise this street, please email me.
Thank you. Peter Stubbs: July 4, 2008
Answer
Thank you to Bryan Gourlay, Biggar, Lanarkshire, Scotland who wrote:
South Richmond Street
"I think you'll find Photo 7 is South Richmond Street.
If you look to the far left of Photo 2 you can see the round building and the lamp post at far end of MacPherson's pub. The angle Photo 2 is taken at allows for the small gap between the buildings."
Bryan Gourlay, Biggar, Lanarkshire, Scotland: July 7, 2008
Thanks Bryan. I agree with your comments above.
Bryan added
South Richmond Street
"A branch of my family lived in these streets for over 100 years from the early 1800s. I knew where the streets were from maps of the time, and have long been keen to see what the buildings in the area opposite the Deaconess Hospital looked like.
My great great grandmother lived in 26 South Richmond Street for about 60 years, having been born a few yards away in 10 East Richmond Street. She also lived at 124 the Pleasance for a while, presumably a few doors away from the Police Station. My grandmother was born round the corner at 16 East Richmond Street.
Bryan Gourlay, Biggar, Lanarkshire, Scotland: July 7, 2008
1891 Map
South Richmond Street can be found at the upper-left corner of the St Leonard's map below