Links to a few pages on EdinPhoto web site
Motoring Advert
Gordon C MacAndrew
Dundas Street, Scotland Street and Tanfield
1927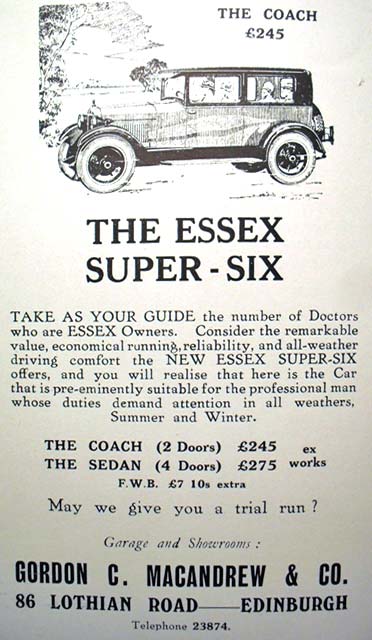 © Reproduced with acknowledgement to John Dickson, Royston, Edinburgh
Advert
86 Lothian Road
Thank you to John Dickson, Royston, Edinburgh for sending me the advert above, as part of a discussion about the SMT Showroom at the corner of Lothian Road and Grindlay Street in the 1950s.
John tells me that this advert appeared in the Handbook of Excursions for the British Medical Association's Annual Meeting in 1927.
Acknowledgement: John Dickson, Royston, Edinburgh: November 10, 2011
Reply
1.
Bruce Johnstone
Haddington, East Lothian, Scotland
Thank you to Bruce Johnstone who wrote:
MacAndrew's Garage
"Seeing the advert for MacAndrew's garage in Lothian Road reminded me of its location which was opposite SMT.
MacAndrew's garage was located next to what is now the Filmhouse, and due to the slope, most of the showroom was above a child's head height.
There was also a drive-in tunnel. I presume this went to the workshops. I don't know if there was an exit on to Morrison Street."
Festival Square
"What is now Festival Square was the rail Good's yard.
Between the entry and exit gates, stood 2 shops. One was a Café. What was the other?
Further down towards the Caley Hotel was a row of shops.
- The first premises sold motor cycling gear etc. That's where my mother bought my crash helmet as I had a Lambretta scooter.
- At the other end was a double-fronted carpet shop.
- What shops were in between?"
Acknowledgement: Bruce Johnstone, Haddington, East Lothian, Scotland, 2011
__________________

Links to a few pages on EdinPhoto web site