Links to a few pages on EdinPhoto web site
Lothian Region Transport
now 'Lothian Buses'
Final Day for
Leyland Atlanteans
January 3, 2000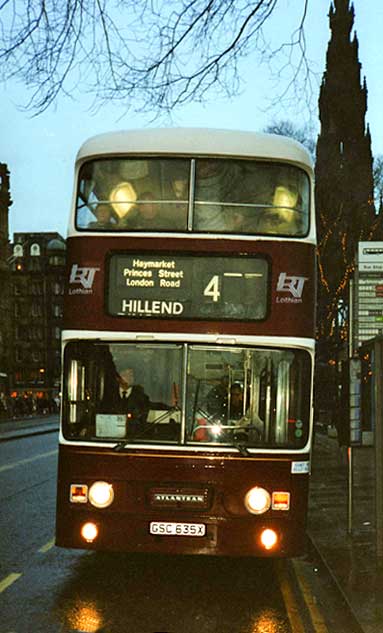 © Reproduced with acknowledgement to Steven Oliver
Recollections
1.
Steven Oliver
Duns, Borders, Scotland
Here is a photo of LRT's Leyland Atlantean bus, No 635 on its final day of service in Edinburgh.
Steven Oliver has already explained that No 635 was required, to duplicate No 659 for part of its final journey on January 3, 2000.
No 659
Steven added:
No 635
"This photo of Atlantean 635 and was taken in Princes Street as darkness fell on the Last Atlantean Day, January 3, 2000. Ross Aitken was at the wheel."
New Roof
"I'd been after a photo of it for ages, as I knew that it was significant in having a roof that was much older than the rest of the bus. As it happened, I managed to get a picture of it on its last day of service with Lothian!
No 635's original roof was damaged after hitting the then low railway bridge in Lasswade Road in the late 1980s, and the bus received a new roof structure from an older Atlantean which was being scrapped at the time.
The number of the donor vehicle – bus 8 – could be made out under the number "3" in 635 when the upstairs fleet number was applied to the inside front dome of the 'new' roof. You had to look very carefully to see this."
Steven Oliver, Duns, Borders, Scotland: April 17, 2008
Recollections
1.
Steven Oliver
Duns, Borders, Scotland
Thank you to Steven Oliver for providing more details of bus No 635 and its new roof.
Steven wrote:
New Roof
"How 635 was re-roofed was very interesting. Brian Melrose, who worked in Shrubhill at the time, told me that bus 8 was parked up behind it in Shrubhill, and its roof was separated into two. The front section was then 'walked on' to 635 and fastened down, followed by the rear one.
The two halves were then joined together and the top-deck windows installed, along with the ventilation hoppers. The job was apparently done in less than a day!"
Shrubhill Works
"I wonder if there are any other folk out there who worked at Shrubhill. I find Brian's stories very interesting (along with his son Calum's recollections) and no doubt there will be other former workers with stories about how Edinburgh's buses were kept running. I think they would make a very good section for the site."
Steven Oliver, Duns, Borders, Scotland: April 17, 2008
__________________

Links to a few pages on EdinPhoto web site