Lothian Region Transport
now 'Lothian Buses'
Final Day for
Leyland Atlanteans
January 3, 2000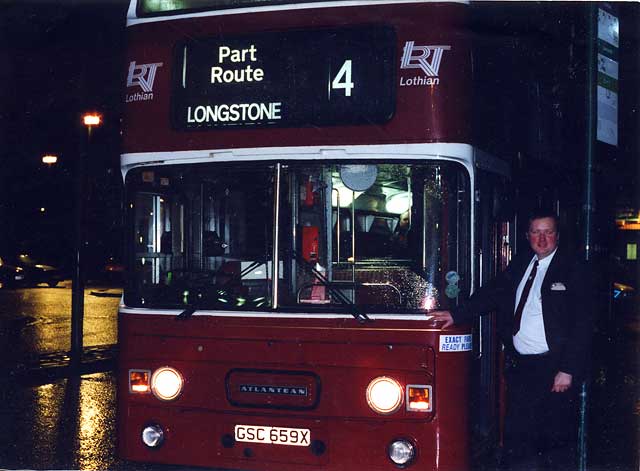 © Reproduced with acknowledgement to Andrew Shortel, Muirhouse, Edinburgh
The Last of the Leyland Atlantean Buses
January 3, 2000
Thank you to Andrew Shortel for providing this photo. Andrew, standing beside the bus in this photo was the driver of this Leyland Atlantean.
In the 1980s, most of LRT's fleet of double-decker buses comprised mainly Leyland Atlanteans, then the company moved to Leyland Olympians and other vehicles.
The bus in this photo, No 659, was the last of the Atlanteans in service. Here it is seen on the evening of its final day of operation, January 3, 2004, at Asda the terminus at the eastern end of Route 4.
Recollections
1.
Steven Oliver
Duns, Borders, Scotland
Thank you to Steven Oliver who wrote:
The Last Journey
No 659
"I've just seen Andrew Shortel's picture of Leyland Atlantean, 659, prior to leaving Asda on its last journey to Longstone. I have a copy of the leaflet from the last day of the Atlanteans on January 3, 2000.
The Atlanteans were all withdrawn from service during the autumn of 1999, but six, 635. 640, 642, 646, 647 and 659 were kept back and spruced up for the Last Day celebrations. This took place on January 3, 2000 when they ran on service 4 until the early evening, when they were replaced by Olympians.
The duties had been carefully arranged so that 659 would be the last Atlantean in to Longstone garage. As the buses had already been sold, to a Manchester dealer, they were stripped of their fare vaults as they came in off service and then refuelled before heading south.
Such was the demand for the last Atlantean journey, the 19.29 working from Asda to Longstone with 659, that bus 635 had to duplicate 659 for part of the journey between London Road and Longstone.
No 635
At 20.12 that evening, 635 and 659 entered Longstone garage for the last time and, with that, the Atlantean era in Edinburgh came to a close after a total of 34 years' service."
To be Preserved
"No. 659 is currently under restoration and when finished will be in its late-1990s service condition."
Steven Oliver, Duns, Borders, Scotland: April 14, 2008
Recollections
2.
Steven Oliver
Duns, Borders, Scotland
Steven Oliver subsequently wrote with more details about the batch of buses that included No 659.
New in 1981
"No 659 was one of a batch of 45 Leyland Atlanteans with Alexander bodies delivered in the autumn of 1981. These comprised 39 dual-door buses and six single-door coaches for the Airport route.
Later, as part of a series of modifications carried out by LRT, all buses in the batch were fitted with Eminox stainless steel exhaust systems. This gave them a very distinctive whistle when accelerating and at full throttle – some buses had more audible whistles than others. I always looked forward to travelling on them, as you knew that you were in for an aural treat."
Airport Coaches
"The six coaches (660-665) were used on the Airport route from 1981 until 1989. My most lasting memory of these coaches is of the maroon carpets and tartan seat fabric fitted when new.
After their retiral from the Airport service, they were used on route 66 between South Queensferry and Seton Sands, then on route 82 between East Craigs and Rosewell. They were gradually downgraded to buses in the early 90s before becoming open-toppers a few years later. They were withdrawn from Lothian service in 1999, with four going abroad to Spain and two remaining in the UK.
Steven Oliver, Duns, Borders, Scotland: April 14, 2008
Recollections
3.
Andrew Shortel
Muirhouse, Edinburgh
Andrew Shortel, Muirhouse, Edinburgh, who drove No 659, the last of LRT's Leyland Atlanteans to operate in service, on January 3, 2000 wrote:
The Last Journey
"No 659 wasn't doing too well that night. The ballast (interior lighting) units kept tripping the fuses and putting one side of the bus in darkness. Something was up with the transmission as well, as that droned like a 1000 angry wasps whenever I put my foot on the gas!"
Andy Shortel, Muirhouse, Scotland: April 16, 2008
Recollections
4.
Hazel Shannly
Edinburgh
Thank you to Hazel Shanley who wrote:
Leyland Atlantean Buses
The Final Day
"I've just read the story above about the final day of the Leyland Atlantean buses in 2000.
My husband has worked for Lothian Buses for the past 25 years. He was the last person to fuel the bus in the photo above, in the garage that night."
Question
"My husband remembers someone taking photos of him driving the bus through the wash etc. that night. Can you tell me if these photos were taken by the same photographer as took the photo below?"
The Last Journey
Hazel Shannly, Edinburgh: July 19, 2013 (3 emails)
Who was the Photographer?
It was Andrew Shortel of Muirhouse that took the photo above, but he says that he was not the photographer who took the other photos that Hazel mentions.
Hazel would still like to discover who might have taken the other photos that night. If you can suggest who it might have been, please email me, then I'll pass on the message to Hazel.
Thank you.
Peter Stubbs, Edinburgh: July 19, 2013