Traction Engine
Eskbank, Midlothian
Traction Engine with Road Train
Possibly at Bonnyrigg Road, Eskbank - c.1906-07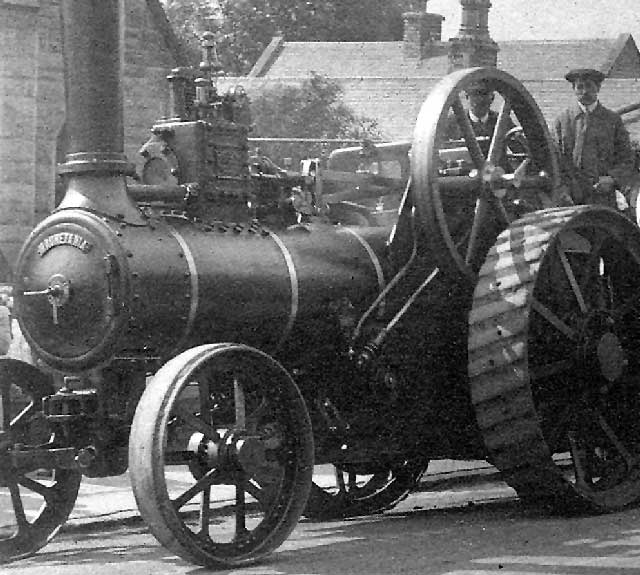 © Reproduced with acknowledgement to John Hadden, Edinburgh
Traction Engine
Thank you to John Hadden, great-grandson of the Dalkeith photographer, Thomas Wallace, for providing a photograph of a road train at Eskbank, Midlothian, towed by a tractor. In this picture we zoom in on the tractor.
John comments on the photo and asks two questions below:
Eskbank Road Train
"This is taken from a postcard-sized photo of a steam traction engine with what appears to be a road train, off on an outing. At a rough estimate, there are more than a hundred people in the 'load'.
I think the location is Bonnyrigg Road, Eskbank."
Questions
1.
John Hadden asked:
"Can anybody tell me what the occasion was?"
'Mauretania' c.1906-07
"The name on the front of the engine reads 'Mauretania'. As the RMS Mauretania was launched in 1906, I suppose the name was quite fashionable just after that, so this photo was possibly taken around 1906-7. That should also make the traction engine quite new."
2.
John added:
"I have sometimes wondered what became of the traction engine.
Do you know if it has survived?"
The Photographer and Family
"On one of the original prints of this picture, someone has pencilled a small 'x' above the figures sitting in the front row of the first wagon.
Given that I believe my great-grandfather (Thomas Wallace) took the photo, I think that the 'x' indicates the position of my grandmother and great-grandmother."
John Hadden, Edinburgh: February 26, 2007
Can you Help?
If you can answer either of John's questions above, please e-mail me, then I'll pass on your message to him.
Thank you. - Peter Stubbs: February 27, 2007
Q2
Answers 1
Thank you to Mark Fellows, Cornwall, England, whose family owns an old Edinburgh steam roller, for sending the following reply.
Mark wrote:
'Mauretania'
"I have asked a few of the traction engine 'anoraks' that I know, and so far can tell you that the engine was made by Charles Burrell of Theftford England and is a single cylinder engine of about the time stated in the questions.
The engine horsepower would be approximately 6nhp, some think it may be a little larger.
At the moment, the only engine with the name 'Mauretania' was built in 1911. It would have some different features/design to the engine in question.
I have yet to hear from a chap that is a walking knowledge of engines to tell me if this engine may still exist or not."
Mark Fellows, Cornwall, England: February 28, 2007
Mark wrote again the following day:
Traction Engine Number
"Possibilities for the engine in the picture are either engine no. 2751 or 2833, both sold around Edinburgh area with an outside possibility of 2820 which was sold into the Perthshire area.
All of these are 7 nhp engines which would fit the engine in the picture due to size of some components (I'm told from the experts!!). None of these engines are listed in the Traction Engine Register as still being in existence. This does not mean they still don't exist, but the chance nowadays is very slim."
'Mauretania'
"There is an engine of this make still in existence with the name 'Mauretania', engine number 3297 registration TB 2848 built in May 1911 now in Reading although the register has a sub note saying the engine is not complete.
It could still be a candidate if the date of the picture is in doubt at all! [Yes, there is certainly some doubt about the date of the picture - Peter Stubbs] The registration could have been added at a later date with another owner in another part of the country."
Mark Fellows, Cornwall, England: March 1, 2007
NHP
On reading Mark's first message above, I asked about the abbreviation 'nhp'. He replied:
nhp (nominal horsepower) is the power rating.
I can't remember the exact formula without looking it up but it's directly linked to the cylinder diameter, e.g. 6'' diameter to 6 nhp, but there's more to it than that !
I think, from memory, that a 6 nhp engine puts out something like 30 bhp (brake horsepower) on the flywheel.
Mark Fellows, Cornwall, England: March 1, 2007
Thanks, Mark for the explanation. I'm learning all the time! - Peter Stubbs
Q2
Answers 2
Thank you to John Robins who wrote:
"There is no number plate upon the traction engine. Number plates were introduced on 1st January 1904. They were issued to all self-powered road vehicles on the public roads, and were mandatory.
So, either:
a) the photograph is older than suggested, or
b) the driver or owner is operating outside the law, and hasn't been stopped from using his engine.
It is possible that no-one was too bothered about enforcing that particular requirement, especially in a rural area that far from London. The engine is certainly a powerful Burrell.
John Robins, Staffordshire, England: November 11, 2008
Q2
Answers 3
Thank you to Ron Dawe whose hobby is identifying and researching old traction engines and collecting photos of Burrell traction engines, for telling me:
"I believe that I have the details for this traction engine.
It is Burrell engine No.3124:
- 7 horse power
- 2-speed, sprung on the rear only.
- New on 29 July, 1909
- Name, 'Mauretania'
- Originally owned by Peter Davidson, Parkland, Eskbank.
- By 1921 it was owned by Musgraves Ltd., Portobello, Edinburgh, and had Registration No.SG5102.
- It was last recorded as being for sale in July 1944.
Ron Dawe, Rainham, Kent, England: email + 'phone call, July 29, 2011
Date of the Photo
Ron mentioned that the traction engine in this photo appears to be in prime condition, so he thinks the photo would probably have been taken in 1909 or 1910.
Registration Numbers
I mentioned to Ron, John Robins' comment that registration numbers were introduced in 1904, but there is no registration number on the traction engine in this photo. However, Ron told me that registration numbers were not introduced on traction engines until 1921.
Peter Stubbs: July 29, 2011