Dumbiedykes Survey Photographs
Lower Viewcraig Row
Wedding - 1948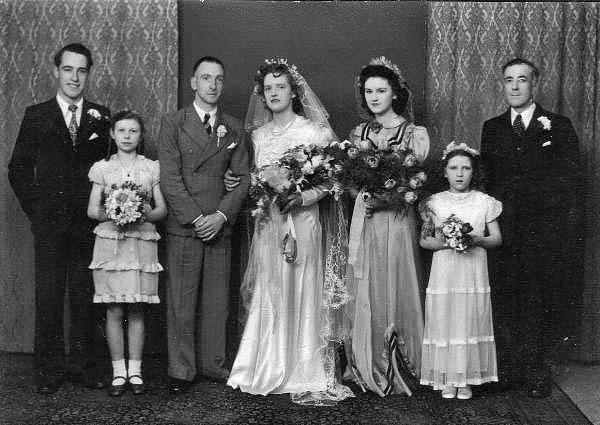 © Reproduced with acknowledgement to Jeanette Boon, Canada (formerly Jeanette Keighren, Dumbiedykes)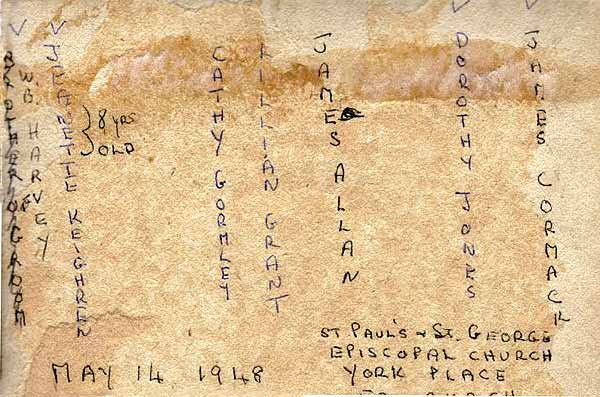 © Reproduced with acknowledgement to Jeanette Boon, Canada (formerly Jeanette Keighren, Dumbiedykes)
Recollections
1.
Jeanette Boon
Canada
Thank you to Jeanette Boon (formerly Jeanette Keighren) for permission to reproduce the photograph above.
Jeanette wrote:
Wedding
"I'm attaching a photo of some people who lived by us.
The bride was Lillian Grant and the bridesmaid was Cathy Gormley. The young girl on the left was Dorothy Jones (top balcony) and I am the wee girl on the right (first balcony).
Both families lived on the ground floor. You went in a door, the Gormleys to the left (right below 65) and the Grants to the right."
Jeanette Boon, Canada: 3 December 2005
Recollections
2.
Jim Robertson
Berlin, Germany
Thank you to Jim Robertson, Berlin, Germany for adding a message to the EdinPhoto Guest Book.
Jim wrote:
Bridesmaid
"My Aunt, Cathy Gormley is the Bridesmaid in this photo.
She is still around and lives at Ferniehill, Edinburgh.
I'm sure she would be delighted to here from Jeanette. I could pass on any message to my Aunt Cathy.
Jim Robertson, Berlin, Germany: May 7, 2007
I've sent Jim Robertson's e-mail address to Jeanette Boon in Canada. I hope she is able to contact Jim with a message for Cathy in Edinburgh.
- Peter Stubbs: May 7, 2007
Recollections
3.
Charlie MacDonald
Livingston, West Lothian, Scotland
Thank you to Charlie MacDonald, West Lothian, Scotland, who wrote:
The Couple
"The couple in the wedding photo are my wife's Aunt and Uncle. Lillian Grant is the Bride.
Lillian's sister, Elizabeth, lived along by St Margaret's Church. I lived in 23 Lower Viewcraig Row. My parents knew Elizabeth. Everyone knew everyone then.
Elizabeth moved down to Gravesend, years ago, when she married, but her daughter also called Lilian (spelling mix up when registered), had some sense and married a Scots man and moved back to Scotland in 1972.
We now live in Livingston, (3 children and 3 grandchildren).
Charlie MacDonald, West Lothian, Scotland