The Future - Other Collections
Leith and Newhaven
Museums
2013 Onwards
Please click here to read of earlier history in the campaign to create a Museum of Leith.
Edinburgh
Edinburgh already has several museums. They are popular attractions both for residents and for visitors to the city.
Leith
There have been campaigns, for many years, to create a museum for Leith, but as yet no home has yet been found for one.
Here is a petition, recently created, encouraging 'The First Minister of Scotland to instigate a Leith Museum.'
You may wish to sign the petition..
When I signed it this afternoon, there were only 16 signatures on it, but I'd expect the number to grow rapidly. Judging by the emails that I've received over the past few years, I know there's a lot of interest around the world from people who used to live in Leith, or whose families used to live there.
Newhaven
Until recently, there was a Newhaven Heritage Museum, in the old fishmarket beside Newhaven Harbour. It had lots of exhibits, photos and information, and old Newhaven residents happy to discuss the history of Newhaven with visitors.
Unfortunately the museum was not able to return to the fishmarket, following refurbishment to the structure of the building a few years ago.
Some of the exhibits from the museum are now on display at Victoria Primary School, close to Newhaven Harbour, but many of the exhibits are unfortunately now in storage. Let's hope that a suitable, permanent home can be found for the museum before too long.
Perhaps somebody will now set up a petition campaigning for Newhaven Museum to be re-opened at a suitable site!
Peter Stubbs, Edinburgh: November 3, 2013
Reply
1.
Frank Ferri
Thank you to Frank Ferri who wrote:
Leith Museum
Support
"The desire to have a specific museum for Leith has been ongoing for several years and is supported by:
- Malcolm Chisholm SMP
- Mark Lazarowicz MP
- Gordon Munro councillor.
Petition
"Some of the major contributors to:
- the Late John Stewarts website,
OldLeither, and
- the newer site,
Spirit of Leithers on facebook, that has adopted the mantle of OldLeither
are becoming impatient of the slow progress by our politicians to establish Custom House as the Museum of Leith. They are now trying to speed things up through public pressure via a petition."
Site for a Museum
"Creating a brand new building in Leith to house the museum would be a costly business. Land in Leith is at a premium.
The only appropriate building would appear to be the old Custom House in Commercial Street, now used for storage by the National Museums of Scotland, no less.
The alternative of using the former Town Hall and Theatre building (behind the Library at the eastern end of Ferry Road) for a Museum is out of the question. We would not want to lose that as a possible future theatre venue for Leith.
Below is an extract from the Internet, giving more information about Leith Custom House:
Leith Customs House
"Located in Commercial Street, is the Customs House, one of several grand public buildings in Leith, reflecting the wealth of the town in the 19th Century. It was here that ships' masters would declare their cargoes and pay any duties.
Built between 1810-12 by Robert Reid (1774-1856), it is in the Neo-Classical Greek Doric style, with a recessed portico centred on a rather severe frontage.
William Burn(1789-1870) made alterations to the exterior but particularly was responsible for the interior between 1824 and 1827.
Notable is the grand imperial stair, with its acanthus-leaf balustrade, and domed ceilings above this stair, in the Long Room and Board Room."
Source: Scottish Places web site
Frank Ferri, Newhaven, Edinburgh: November 10, 2013
Reply
2.
Peter Stubbs
Edinburgh
Leith Museum Petition
"I'm pleased to see that now, about ten days after its launch, the petition mentioned above, 329 people have signed it. This is well above the original target of 100 signatures. Many of those who have signed the petitiion have also left comments about why they support the creation of a Museum for Leith."
Peter Stubbs, Edinburgh: November 12, 2013
Reply
3.
Ruth McClounnan
Thank you to Ruth McClounnan for posting a reply in the EdinPhoto guestbook in response to a message posted there by John Cavanagh.
Ruth replied to John:
Leith Museum
"We have a great Facebook site for Spirit of Leithers.
We are in the midst, right now, of looking for signatures on a petition for a Leith Museum to be housed in the old Custom House Building in Commercial Street, Leith.
On our facebook page, we show old photos of Leith which are great, and we get many comments on them. Come on in. Have a look."
Ruth McClounnan, Reply posted in EdinPhoto guestbook on November 11, 2013
in response to a message posted there by John Cavanagh on November 10, 2013.
Reply
4.
Peter Stubbs
Edinburgh
Leith Museum
Campaign
Almost a full page was devoted to the campaign to create a Museum of Leith in yesterday's Edinburgh Evening News. of their newspaper on November 11, 2013, to the Spirit of Leithers' campaign to create a Leith Museum.
The article suggested a number of items that could be exhibited:
Possible Exhibits
"- The Proclaimers' Glasses.
- The first Kwik-Fit sign.
- A medal or shirt won or worn by one of the Famous Five. (of HIbs FC).
- The first Rules of Golf.
- A whale's narwhal.
- First edition of Trainspotting."
The article quoted a spokesman for Spirit of Leithers who said:
Rich History
"The town of Leith has for decades needed its own museum. There is a rich history to the Port of Leith stretching back hundreds of years.
There are many exhibits stored in dark rooms never seeing the light of day. We need to celebrate this history through a museum of Leith.
The article referred to landmark occasions in the history of Leith that could be celebrated:
Events
"- The Siege of Leith, 1559-60
- The visit of Mary Queen of Scots in 1561.
- The attempted attack by the American Navy during the War of Independence in 1779.
- Leith's merger with Edinburgh in 1920."
The article quoted a number of people and organizations as being in support of creating a Museum of Leith, including:
Support
"- Those from the Spirit of Leith Facebook page who had created the petition, and those who had signed it.
-
Sir Tom Farmer
-
Leith History Society
- Mark Lazarowicz, Edinburgh North MP and chairman of Leith Museum Company, a body formed to complete the plan for a museum."
Edinburgh Evening News Support
Edinburgh Evening News has now added its own name to those supporting the campaign, remarking that it is incredible that Leith does not already have its own museum, and that the campaign to create one has its full support.
Source: Edinburgh Evening News article, November 11, 2013, p.3 (Article)+ p.16 (Comments).
The headline for the article was: 'Celebrate Leith History at a Single Port of Call'.
Peter Stubbs, Edinburgh: November 12, 2013
Reply
5.
'Spirit of Leithers'
Leith, Edinburgh
Leith Museum
I received a message yesterday from Graham White of 'Spirit of Leithers' who had previously organised a petition calling for the establishment of a Leith Museum.
Spirit of Leithers' have now updated their campaign and created a new petition on the change.org web site. Here is the message that Graham White of 'Spirit of Leithers' sent to me:
'Plan B'
A Floating Museum
"I have been discussing a 'Plan B', for The Leith Museum. If Customs House is not achievable, a proposal to have a Floating Museum as close, as possible to it may be. At this time, a series of pontoons could be configured to make a 40mtr x 8mtr single or a 2 storey Floating Museum.
There are a number of other options in the running which, are feasible. I have been given a great deal of help in achieving the idea of a Floating Museum by, Tom King MD of SRT Ecobuild.
Tom has currently submitted Planning proposals for similar structures, In, and around, the Shore Basin/ Rennies Isle, in Leith Docks. To assist Mr. Tom King with his efforts, I have begun another e-petition to give him as much support as I can muster.
The petition for anyone across the world can be found at Auld Scottish Banter on Facebook. I am sure that the over-riding wish, is to have our own Leith Museum. A Floating Museum could well be an option of choice if Customs House is beyond our grasp.
Many have already signed up. I hope that all that receive this update will agree and assist by signing up."
Graham White: April 30, 2014
The New Petition
Please click here to view the new petition
Reply
6.
Custom House
To be the home for Museum of Leith
Leith Museum
Over the past few months, there have been several reports in the local press about acquiring the Custom House (on the west side of the Water of Leith, across the water from The Shore as a home for the Museum of Leith.
The Custom House. at 67 Commercial Street, Leith, has been used in recent years by Historic Scotland for storing material, but has now been bought to be converted into the Museum of Leith.
Custom House, Leith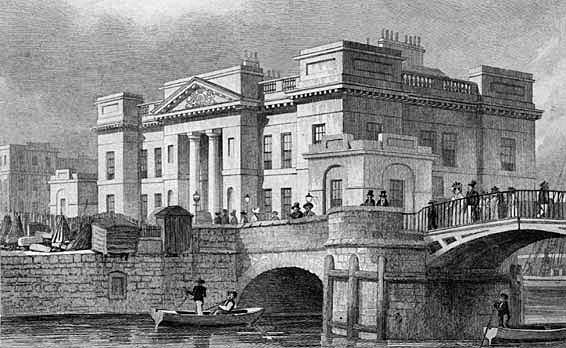 © Copyright: For permission to reproduce, please contact peter.stubbs@edinphoto.org.uk
Success
Here is a link to an Update Page on the Museum of Leith Petition web site.
It gives a brief summary of the success (or, as they say, in their enthusiasm, 'Suuccess') achieved to date, at October 7, 2014, in acquiring the Custom House and future plans for the Museum.
Peter Stubbs, Edinburgh: October 18, 2014