Question
1
If you can provide any comments or details, in response to the question below, please email me.
The question came to me by e-mail from Harris Economou of Tinton Falls, New Jersey. Harris wrote:
"I am searching for information on a 19th century engraver who I believe was from Edinburgh. His name was John Sellers.
I have acquired an iron/steel plate about 2.5 inches by 5 inches which is richly engraved with a women in a flowing dress standing by a pier or dock. There are tall ships in the background.
On the reverse is the name John Sellers and an S with a line or the number one running through the long dimension.
I have been told Mr. Sellers was an engraver in Edinburgh who worked for R & HB Kirkwood Goldsmiths and Silversmiths from 1843-1871.
Any information or sources of information you can supply would be appreciated.
Thank you for your assistance."
Harris Economou, Tinton Falls, New Jersey
Reply
1
Thank you to Sheila Gilbert, Maryland, USA, for sending me an e-mail in June 2005. Sheila wrote:
Sheffield
"Just another small piece of information to add. I am also searching for additional information on John Sellers. I believe that the company is from Sheffield, England.
I have an Engraver's Book Plate of:
- A. Lincoln and
- T. Roosevelt.
My plates have the same 'S' mark with a line (possibly a sword?) running through it, as described by Harris Economou above. The wording reads: 'John Sellers and Sons Sheffield England'.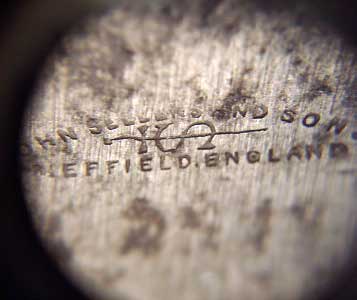 © Reproduced with acknowledgement to Sheila Gilbert
I also found a reference to a company, John Sellers, Sheffield and New York. They were makers of razor blades 1820-1953. I don't know whether or not there is any connection with John Sellers, engraver."
Sheila Gilbert, Maryland USA - June 2005
Reply
2
Thank you to Katrina Hulse, Sheffield, South Yorkshire, for sending the following reply.
Katrina wrote:
Copper and Steel Plates
"In response to your query. John Sellers was a cutlery manufacturer operating from 151 Arundel Street, Sheffield. He also manufactured steel and copper plates for engravers. The company had an office in New York in order to supply the American market.
The corporate mark of the firm was granted in 1838 and was a dagger entwined with the initial 'S'. This may be the answer to your investigation."
Katrina Hulse, Sheffield, S Yorkshire, England: March 31, 2006
Reply
3
Thank you to Julian Sellers who replied from Australia
Julian wrote:
Family
"I am located in Melbourne Australia.
I believe that my grandfather Harold Victor was one of the sons of John Sellers. Harold migrated to Tasmania, Australia with his wife Marion Sheppard.
Pocket Knife
"We have in our home a large pocket knife which was made by John Sellers and Sons for a trade fair in Odeon House in Germany.
This pocket knife is engraved with the Odeon House on the master blade."
1838 Papers
"We also have in our home a chest of draws that my grandfather has when he was a student at Christ College. The draws have been lined with newspaper of the Sheffield Gazette of 1838."
Julian Sellers, Melbourne Australia: April 27, 2007
Reply
4
Thank you to Michael Huff, an antiques enthusiast from Sparta, Tennessee, USA, who wrote:
Straight Razors
"I read your post about John Sellers, and believe that the response you received was correct.
John Sellers manufactured several items including different pocket knives and straight razors, all bearing his mark."
Michael Huff: June 15, 2007
Michael also sent me two photos of one of John Sellers' razors, with the 'S + sword' emblem clearly marked on it.
Question
2
Here is message that was sent to me in February 2006 by Glen Knowles, Aiken, South Carolina, USA.
Glen wrote:
"We too have what appears to be a steel plate with the reverse side saying John Sellers & Sons Sheffield. That is preceded by an S with a sword going through from top to bottom.
On the front is an etching, or engraving(?) of Levi Baldwin who owned a store in Fredonia, N.Y. in the mid 1800's. Levi Baldwin's grand daughter married my wife's uncle.
The etching appears as a negative photograph, as his name runs backward, but with the picture we also have, all is reversed from the etching and can be read properly.
QUESTION: Do you have any idea of the process used to make the picture?
Glenn Knowles Aiken, South Carolina, USA: February 21, 2006
Please e-mail me if you feel that you can help to answer this question above, then I will forward your message to Glen.
Thank you. - Peter Stubbs
Question
3
Here is message that was sent to me in February 2006 by Thomas Mandown, San Antonio, Texas, USA
Thomas wrote:
"I have a metal plate that I found in New York. It is about four inches wide and 18 inches long and it has 5 or 6 circles on one side.
On the top it there is the logo, Winchester, with a picture of a native American.
On the back, it has "John Sellers & Sons Sheffield England". The edges are at a 45 degree angle.
What is it? What was it used for? I asked a collector of Winchester guns and he couldn't figure' out what it was used for.'
I would be grateful for anybody's input. Glenn Knowles Aiken, South Carolina,, USA"
Thomas Mandown: June 24, 2006
Reply
Thank you to Neely Caldwell who wrote:
Business Cards
"I believe that the plate described was used to print business cards or other advertising for Winchester."
Neely Caldwell, Bluemont, Virginia: August 2, 2006
Neely is researching a tool by John Sellers with a very sharp 7.5ins triangular blade, bought at an estate sale.
Question
4
This message was sent to me in October 2006 by Richard Howe.
Richard wrote:
"I found this tool in an artist's box that was shipped to Milwaukee in the 40's. Have you any idea as to what it's purpose was?"
Richard Howe: October 10, 2006
Here are some comments that I have received about this item.
Please e-mail me if you feel that you can help to answer this question above, then I will forward your message to Glen.
Thank you. - Peter Stubbs
Replies
I have received several replies to this question. Please click on one of the thumbnail images below to read these replies. These images come from 'Reply 4'.
Comment
5
Thank you to John Jackson who sent me more details about John Sellers' engraving business.
John wrote:
"The New York numismatic firm Stack's is conducting a series of auctions offering the archives of the plates and vignette dies used by the American Banknote Company and it's predecessor companies to print banknotes.
Most date from the mid 19th century. Almost all of these have the John Sellers' mark on the back, and it appears he was the supplier of the metal used by the engravers working for the Banknote company."
John Jackson: August 21, 2007
Comment
6
Thank you to Graham Short who wrote:
John Ufton Sellers
"I'm not sure how much information you have on John Sellers, or even if you are still looking for more about him.
I am one of the last remaining engravers in the UK who still engravers on steel and copper for the diestamping trade. I used to buy my steel and etching ground from John Sellers in Sheffield, from 1970 to 1985.
The man who supplied the steel lived in Sheffield, then went to live in Norwich. He used to drive in his Land Rover to visit me in Birmingham. His name was John Ufton Sellers.
I don't know if he is still with us. He must have been in his seventies when he supplied me. He was a great guy and a wonderful character."
Graham Short, Birmingham, West Midlands, England: July 1, 2010
Any More Questions?
If you have any questions that you would like to put to Graham Short, please email me, then I'll pass them on to him. Thank you.
Peter Stubbs: July 8, 2010
Comment
7
Thank you to Alan Cook who wrote:
Scottish Dirk
"I have a regimental Scottish Dirk which would date around the time Sellers was in Edinburgh. Kirkwoods were suppliers of such Dirks.
Sellers' name and the the 'S with a sword through it' are on the small knife blade."
Alan Cook: April 19, 2006
Comment
8
Thank you to Barbara Sellers who wrote:
John Sellers & Sons
Knives, Steel Plates and Cubes
"I've just seen the postings above, from a few years ago, regarding John Sellers and Sons.
Most of the answers you have are correct. John Sellers and Sons produced premium steel products, lastly from 151 Arundel Street in Sheffield. When we were little, we heard mostly about the knives and steel plates. It is my understanding that the high quality of the steel plates was such that they were used to print currency.
Steel plates and small steel cubes were used for engraving, but to my knowledge, John Sellers was not an engraver, nor were any of his sons.
The small steel cubes, with an S and a sword through it, were also given out as souvenirs.
The Sellers Family
"Ella Sellers Ufton was the last owner of the company. She was the widow of the last member of the Sellers family in Sheffield. William Sellers was the last member of the family to run the business in New York City. Neither William or Ella had any children.
William Sellers was my great uncle."
Barbara Sellers, New York State, USA: November 11, 2014