This section is listed in approximately chronological order
but with exceptions - especially where links are made between engravers.
1.
- Robert R Scott (b. Lanark 1777; d. 1841) was an Edinburgh engraver who specialised in landscapes and topography.
Gillespie's Hospita
by R Scott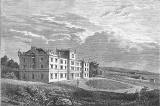 ©
His sons were also engravers:
- Davis Scott RSA (b.1806; d.1849) was best known as a historical painter.
- Bill Scott - an artist, engraver and art critic.
Please click here for more details of the Scott family.
- Andrew Wilson (b. Edinburgh1780; d. Edinburgh 1848) was a landscape and topographical engraver.
- William Nicholson (fl. Edinburgh1796-1816) was a line engraver, specialising in architectural and topographical subjects.
- Charles Heath Wilson (b. Edinburgh; d. Edinburgh 1842). son of Andrew Wilson, was taught by his father. He went on to become a landscape painter and engraver, a director of the Edinburgh School of Art 1843 and of the Glasgow School of Design 1848 before emigrating to Italy 1869.
- John Petrie (fl. Edinburgh1796-1916) was an architectural and topographical engraver. Was he related to the etcher, John RA Petrie?
2.
- James Kirkwood & Son specialised in engraving ornamental writing. The company was established 1790 or earlier. Three generations worked for the company:
James Kirkwood,
John Kirkwood, son of James,
George Kirkwood (b. Ireland; fl. c.1850), son of John.
The company was based at Parliament Square, then at 11 South St Andrew Street.
Their work included engraving medals for Edinburgh Photographic Society.
Question:
A correspondent from New Jersey, USA, tells me that he has acquired an iron/steel plate about 2.5 inches by 5 inches which is richly engraved with a women in a flowing dress standing by a pier or dock.
There are tall ships in the background. On the reverse is the name John Sellers and an S with a line or the number one running through the long dimension.
He has been told Mr. Sellers was an engraver in Edinburgh who worked for R & HB Kirkwood Goldsmiths and Silversmiths from 1843-1871.
He asks if anybody can supply more information. If you can help, please email me.
Thank you. - Peter Stubbs
- William Home Lizars (b. Edinburgh 1788; d. Edinburgh 1859), was born in Edinburgh. and apprenticed to his father Daniel Lizars (see Early Engravers) then to the Trustees' Drawing Academy.
He took over the Lizars family's engraving business at 61 Princes Street and 3 St James Square on his father's death in 1812.
He produced many engravings for books, including 51 engravings after drawings by Ewbank for Picturesque Views of Edinburgh and also engraved maps of Edinburgh for the early Edinburgh trade directories from the 1830s or earlier until 1859.
He was also a painter.
Engraving by WH Lizars
published in Modern Athens - 1829
- James Stewart (b. Edinburgh 1791; d. South Africa 1863) produced historical and sports engravings. He was an original member of the Royal Scottish Academy in 1826. He emigrated to Algoa in 1833.
3.
- The Smillie brothers both emigrated to North America, and carried out banknote engraving. They were:
James Smillie (b. Edinburgh 1807; d. Poughkeepsie) and
William Cumming Smillie (b. Edinburgh 1813)
- John Talfourd Smyth (b. Edinburgh 1819; d. Edinburgh 1851) was a historical and portrait line engraver. He moved to Glasgow in 1838.
- Bruce James Home 1830-1912 was apprenticed to an Edinburgh lithographer. He studied at the Trustees Academy under Scott Lauder. He lived in London. 1892-97.
He was curator of the Outlook Tower and first curator of the Edinburgh municipal museum.
He was a topographical artist who published a two volume book: Old Houses of Edinburgh in 1905-1907.
The Edinburgh Room at Edinburgh Central LIbrary has a copy of this book.
Edinburgh Central Library has a lithographs, drawings and an etching by Bruce James Home.
The City of Edinburgh Art Collection has drawings, watercolours and an oil painting by Bruce James Home.
- Thomas Dick worked in Edinburgh 1839 until 1870, producing engravings of prominent Edinburgh figures.
- William Richardson (fl. late-1840s - 60s) and
William Miller (d.1887, aged 86, having lived throughout his life at 4 Hope Park)
produced many line engravings, mostly in steel, including engravings after DO Hill to illustrate The Land of Burns and engravings after Turner.
- There was also another
William Miller (b. Edinburgh, 1796: d. Sheffield 1882). He was apprenticed in 1811 to
William Archibald.
William Miller went to London 1819 then returned to Edinburgh 1821.
His work was published in Art Journal, Art Union and elsewhere.
He moved to London, 1819, and returned to Edinburgh, 1821. [P&P:RL]
- John Smith (fl. Edinburgh 1800-30) was a portrait engraver.
4.
- William Forrest was another contributor to The Land of Burns, and Memorials of Edinburgh in The Olden Time.
- Robert Anderson ARSA ( b. Edin 1842, d. Edin 1885) was a general, landscape and shipping engraver.
- David Law (b. Edinburgh 1831; d. Worthing 1901) was one of many Edinburgh engravers who studied at the Trustees' Academy. He was apprenticed to George Aikman (See Engravers as Photographers) in Edinburgh.
He later moved to Southampton to work for the Ordnance Survey before taking up watercolour and etching.
- Scott & Ferguson were engravers and lithographers in Edinburgh in the late 19th century.
Graham Johnston (b. Edinburgh 1869) was employed by Scott & Ferguson, carrying out work for the Lyon Court which later made him heraldic engraver.
- Hugh Paton and Sons (fl. Edinburgh 1880s) were publishers based at 115, Princes Street.
5.
- Forrester & Nichol of 10 George Street, Edinburgh advertised their lithographic business in Gray's Annual Directory 1833-34.
- J Drummond produced over 100 attractive stone lithographs from the 1840s until the 1870s. Almost all of these were of Edinburgh, in particular of the closes around the High Street and Canongate. These were published in a book in 1879.
Main sources: Book of the Old Edinburgh Club, Vol 9John C Guy
+ Prints & Printmaking, Raymond Lister
ALSO: Caatalogue of the City of Edinburgh Art Collection
Questions
D Small produced some engravings of Edinburgh in a book published in 1880. I have two of these engravings.
- Which book were they published in?
- Was D Smith based in Edinburgh.