The Reflex Camera
The British Journal of Photography, in 1911, included an article entitled:
The Range of Power in a Reflex Camera
The article was illustrated by several photos taken in and around Edinburgh, including:
1. Highland pipers entering Edinburgh Castle, illustrating that the reflex camera enabled the focusing to be done and photo to be taken in a more casual manner than was possible with earlier equipment.
2. a photo of the Heart of Midlothian, a pattern set into the pavement in the Royal Mile, Edinburgh. This was used to demonstrate the use of the focusing screen on a reflex camera to achieve accurate focus.
3. a photo of the recently erected Royal Scots Greys statue in Princes Street Gardens. This photo illustrated the use of a wide aperture of f4.5 on a dull day, in order to keep the main subject in sharp focus against the backdrop of Edinburgh Castle.
The Royal Scots Greys Statue - Princes Street Gardens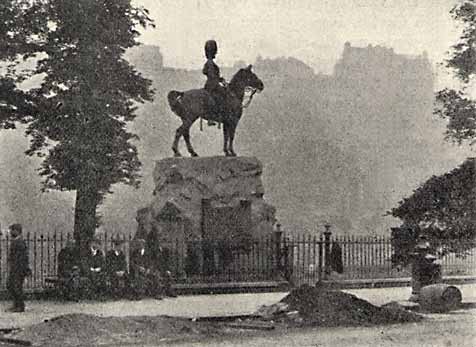 © Reproduced by courtesy of Edinburgh Photographic Society
This statue commemorates the Royal Scots Greys who left Edinburgh in 1899 to fight
in the South African War. It was unveiled by Lord Rosebery on 16 November 1906.
4. A photograph of RL Stevenson's cottage at Swanston, near Edinburgh, was taken over a high hedge. The journal described this photo as being
"one of several photos made by holding the camera at arms' length upside down above the head, in which position the view may be seen and focused, and exposure made with almost as much readiness, though with somewhat more fatigue, as in the ordinary position.
In order that the reflex should be used in this way, it is essential that the mirror should not be of a type which falls again automatically and by its own weight after exposure."