Sixth Plate
Several tintype photos would be cut from a single sheet of metal.
In some cases, the resulting photos could be as small as 1 x 0.5 ins. The tintype below has been roughly cut to about 2.25 x 3.5 ins.
This would have been produced by making six prints onto a single whole-plate (8.5 x 6.5 ins) sheet of metal, then cutting it roughly into six with tin snips - each of the six being sixth-plate size.
Other sizes such as quarter-plate and ninth-plate were also popular.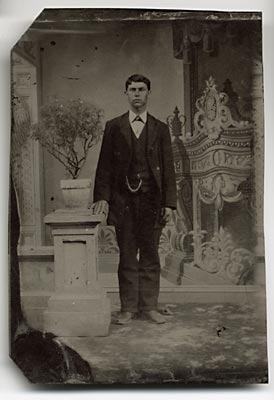 © Copyright: For permission to reproduce, please contact peter.stubbs@edinphoto.org.uk