Links to a few pages on EdinPhoto web site
Edinburgh Transport
Slateford Road
Roadworks 2
Slateford Road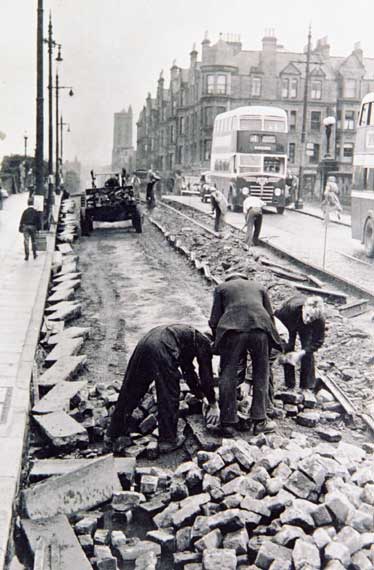 © Reproduced by courtesy Lothian Buses plc
Slateford Road
This photograph shows tramway tracks on Slateford Road, at Shandon Place, with St Michael's Parish Church at Angle Park in the background.
The hump, ahead, in the road is the bridge over the railway beside the Caledonian Brewery.
Judging by the bus in the background, this photograph would have been taken in the early-mid 1950s as the tram tracks were being lifted.
This site also has two other photos of the lifting of this track. They are Roadworks 3 and Roadworks 4
Thank you!
The photograph above was originally added to this web site, with the title:
'Where and When? - No 2'
Within ten days I had received an email identifying the location.
Thank you: Douglas Beath, Tasmania, Australia
- Peter Stubbs
Recollections
1.
Lois Pack (née Cessford)
England
Thank you to Lois Pack who wrote:
Family
"I have an older sister, Moira and a brother, Stephen. We lived in No 53, Slateford Road which is visible in the photo of the tramlines being laid."
The District
" I remember North Merchiston Church. It was opposite the Lyceum Cinema at the corner of Slateford Road and Robertson Avenue. The cinema showed Expresso Bongo with Cliff Richard. It burnt down eventually and was made into a car showroom.
Lois Pack, England: November 4, 2010
__________________

Links to a few pages on EdinPhoto web site