Thank you to WAC Smith for allowing me to reproduce this photograph of Princes Street station.
This photo was taken on May 21, 1955. Loco No 57559 is waiting at the station with the 12.05 to Edinburgh Princes Street station as a tram passes along Lindsay Road.
The station is close to the Entrance to Leith Docks and Ocean Terminal at the northern end of North Junction Street. In the 1990s, the old station was being used by a company that hired marquees.
In the early 2000s, as part of the Edinburgh Waterfront development, new apartments were built on the land
.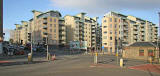 ©