Edinburgh Railways in the 1950s
Corstorphine Station
Corstorphine Station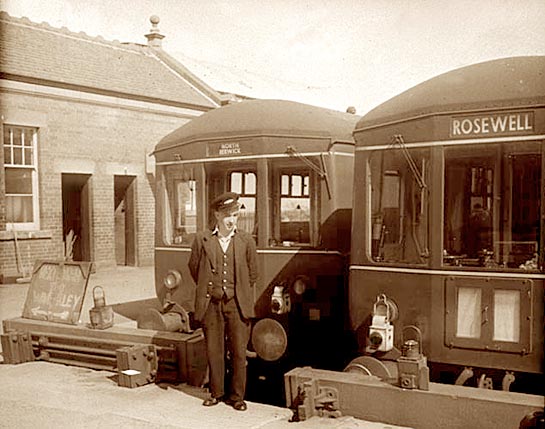 © Reproduced by courtesy of Archie Foley
Corstorphine Station
1950s?
Here is a one of a series of photos, possibly all taken on the same day, some time in the 1950s, featuring railway workers, in uniform and in overalls, standing at the end of the line at Corstorphine Station.
Most of the destinations of the diesel multiple units were Musselburgh and North Berwick, but here is one showing Rosewell. The blackboard at the end of the platform reads: 'NEXT TRAIN TO WAVERLEY' with an arrow pointing to the left.
Question
When might this photo have been taken?
Peter Stubbs, Edinburgh: December 2004
Reply
1.
Scott Miller
Thank you to Scott Miller and John S Wilson for the comments below, leading to the conclusion that this photo must have been taken during the period 3 Feb 1958 to 8 Sep 1962
Scott Miller wrote
"The photo of the DMUs at Corstorphine was taken between
- July 1957** (when DMUs replaced steam to Rosewell) AND
** This date should, in fact be 3 Feb 1958.
John S Wilson, Slateford, Edinburgh: Dec 20, 2012
- 4 Feb 1962*** when Rosewell & Hawthornden closed, along with Bonnyrigg etc on the line to Galashiels via Peebles.
*** This date should, in fact be:
- 10 Sep 1962 - for the Corstorphine to Rosewell service.
- 5 Feb 1962 - for services beyond Rosewell to Peebles and Galashiels.
NOTE: These two dates are both Mondays. There was no Sunday services, so the last trains to run on these lines were on Sat 8 Sep 1962 and Saturday 3 Feb 1962.
John S Wilson, Slateford, Edinburgh: Dec 20+21, 2012
Please see also: John's 'Reply 2' below.
Scott added:
Most Trains went to North Berwick or Rosewell & Hawthornden but a very few went to Musselburgh. Most Musselburgh trains started at Waverley.
I know this reply does not identify the photographer but it may help.
Scott Miller: December 2004
Reply
2.
John S Wilson
Slateford, Edinburgh
Just over five years after receiving Scott Miller's Reply 1 above, I received a reply from John S Wilson.
John reminded me of these adverts for commencement of diesel services in and around Edinburgh. They show that the diesel multiple unit service between Corstorphine and North Berwick did not in fact start until February 3, 1958.
John wrote:
"The Musselburgh, Corstorphine, Rosewell and Edinburgh south side circle services formed a single operation, with an irregular pattern of destinations from each line."
John S Wilson, Slateford, Edinburgh: February 16, 2010
John added:
"Services from Edinburgh to Galashiels and Peebles were withdrawn on 5 Feb 1962, but the Rosewell line remained open then as a remnant of the Peebles line. The service to Rosewell was not withdrawn until Monday 10 Sep 1962, the same day as the service was withdrawn from the South Side Circle line (last day of operation, Saturday 8 Sep 1962).
John S Wilson, Slateford, Edinburgh: December 20, 2012