Inglis Family
Several generations of the Inglis family worked form Rock House until 1949. The company then moved to other premises in Edinburgh, and remained in business until 1973.
More details of the Inglis Family can be found on the page for Rock House Studio Occupants in the 19th century
Paul Shillabeer
The last Edinburgh photographer to work from Rock House was the industrial photographer, Paul Shillabeer FRPS. When was he based at Rock House? He was based at 69 Hanover Street from 1957 until 1969.
For Sale - 2000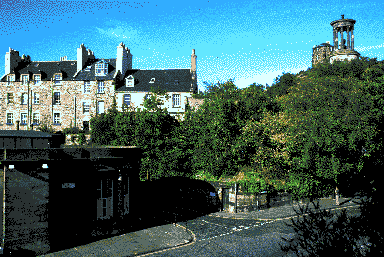 © Copyright: peter.stubbs@edinphoto.org.uk
Rock House is the building at the right end of the row of houses, close to the centre of this photograph. The house was offered for sale in March 2000, and valued at approx £500,000.
Some interest was shown in buying the house and opening it to the Nation, but this was found to be impractical. It was thought that the house would not have been suitable to accommodate a large number of visitors.
However there is currently (May 2001) enthusiasm for opening the nearby Royal High School, also beneath Calton Hill, as a location to display and celebrate the history of photography in Scotland.