Edinburgh Exhibitions - 2009
'Craigmillar Then'
An exhibition of historic photos of Craigmillar
at
The John Maxwell Gallery
ARTSPACE
11 Harewood Road, Craigmillar.
ADMISSION FREE
July 4, 2009 to July 22, 2009
Monday to Saturdays: noon to 4pm
1.
Exhibition Poster
© Reproduced with acknowledgement Johnni Stanton, Craigmillar, Edinburgh
Exhibition Poster on display outside ARTSPACE, Craigmillar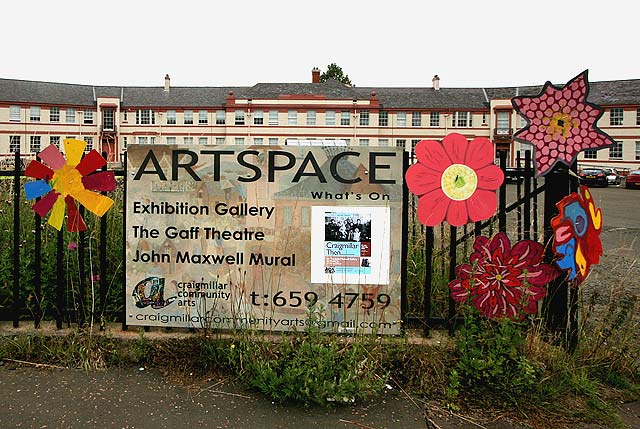 © Copyright: Peter Stubbs - please contact peter.stubbs@edinphoto.org.uk Photo taken: July 16, 2009
Exhibition
The Exhibition
This interesting collection of photos of Craigmillar, grouped by decade for the past century, has been compiled by Johnni Stanton.
This exhibition was featured as a two-page spread in the Edinburgh Evening News on Saturday July 11, 2009.
This photo shows the poster for the exhibition.
The exhibition was originally scheduled to run from July 4 to July 18, but has been extended to July 22 by popular demand.
The Venue
This photo shows the poster on display at the entrance to Artspace, surrounded by some flowers painted to celebrate the Craigmillar Festival, 2009.