A Club that meets in Edinburgh
for those with a hobby of collecting postcards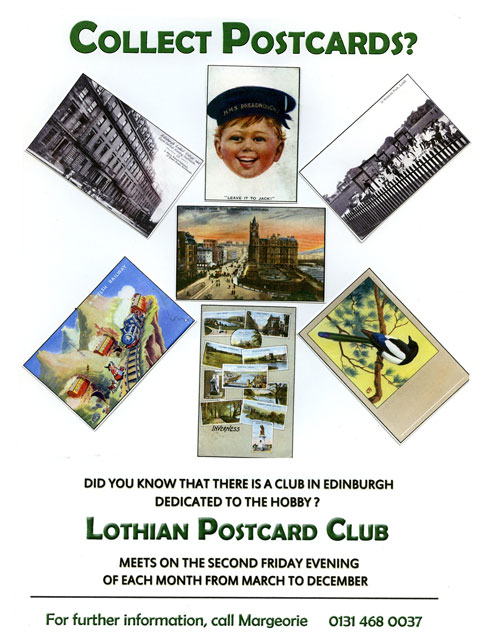 © Copyright: Peter Stubbs - please contact peter.stubbs@edinphoto.org.uk
History
The club was founded in 1995. It now meets monthly from March until December, usually on the second Friday of the month.
Members collect postcards on many topics, including:
- areas where they grew up or where they now live.
- thematic collections - birds, bridges, transport, comic, ...
- cards by specific artists and publishers.
Meetings
Meeting last a couple of hours, and usually involve circulating collections of postcards from one of the members or from a visiting speaker around the 30 to 40 people present.
There is a break for tea and coffee mid way through the evening. There are usually some old postcards offered for sale at around 20p to 50p each, and details of forthcoming postcard fairs around Scotland are announced.
New members and guests are made very welcome. Please telephone 0131 468 0037 for further details.
The club has about 60 members, a newsletter about postcard collections and the activities of the club that is circulated several times a year, and an annual subscription of £8.