Collection of Balmain Photos
"I've recently been in contact with an elderly 1st cousin who lives in Edinburgh, and have discovered that she has a huge collection of James C H Balmain photographs and letters. She has offered them to me but is reluctant to post them – so I hope to visit her fairly soon so as to allow me to go through her collection.
Balmain Cycling Photograph
"My cousin mentioned she has a copy of this Balmain cycling photograph, and confirmed that the couple 2nd from the right in this photo are definitely James C H Balmain and his wife, Kate Field: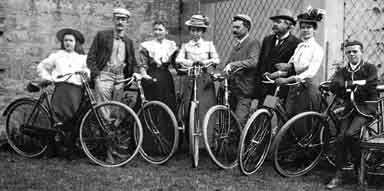 © Reproduced by courtesy of the Yerbury Family. Click here for link to web site.
My cousin also told me that:
- the young boy on the far right of the photograph is one of their sons, George Balmain (1886-1958).
- the young girl on the far left is the sister of George Balmain on the far right. She is my grandmother who I remember very well. (She lived at 6 Salisbury Road)
- the other four people in the photo are apparently friends of James C H Balmain from the USA (where he was born) who were visiting Edinburgh."
Geoff Dawson: May 6, 2013