To see any of the photos below enlarged,
please click on the images.
Douglas produced stereo cards published under the name:
Douglas Photographer or
Douglas Edinburgh or
Douglas Photo Edinburgh.
The two views of Edinburgh Castle below below carried a description of Edinburgh Castle on the back, beginning with four lines of verse:
" There watching high, the least alarms
The rough rude fortress, gleams afar
Like some bold veteran, grey in arms
And rough with many a seamy scar"
Edinburgh Castle from Johnson Terrace
View looking up to the castle from the South East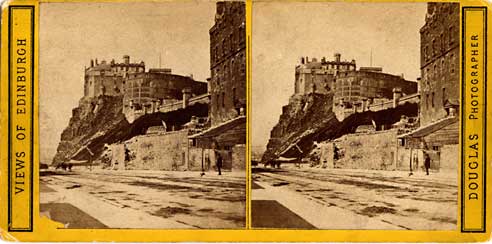 © Copyright: For permission to reproduce, please contact peter.stubbs@edinphoto.org.uk
Edinburgh Castle from the Castle Esplanade
View looking up to the castle from the East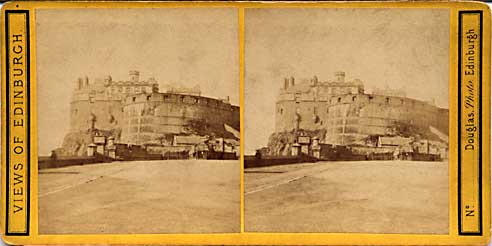 © Copyright: For permission to reproduce, please contact peter.stubbs@edinphoto.org.uk