Edward Reuben Yerbury had a long association with the Edinburgh Photographic Society. Replying to a toast at the 1930 EPS Annual Dinner, he recalled that he had been associated with the society as far back as 1895 when as a schoolboy he first exhibited snapshots at the society's exhibition.
He returned to Edinburgh Photographic Society, in January 1940. His subject, probably delivered by showing his colour colour cine film, was:
A Tour Round Africa
This film was made during a trip to Capetown, Basutoland, The Victoria Falls, Bulawayo, Rhodesia, the East Coast of Africa, Zanzibar, Aden, Cairo and the Mediterranean in 1839. [The Evening Dispatch: 27 Jan 1940]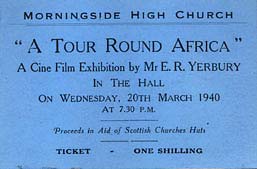 © Reproduced by courtesy of Trevor E R Yerbury, Edinburgh.
Edward Reuben Yerbury gave several showings of this film in Edinburgh, raising funds for The British Red Cross Society and for Scottish Churches Huts.