John Patrick

1.

2.

3.

4.

5.

6.

7.

8.

9.
1.
John Patrick
Photographic Studios in Fife
Fife Studios
John Patrick was born in 1831 in Buckhaven, Fife. He became a baker in Buckhaven, then moved to Leven where he opened a business as a bookseller before becoming interested in photography.
He opened his first business at 71 High Street, Leven, at the age of 22, with a telescope mounted on the roof of this studio to study the night sky.
[Scots Magazine Date?]
There is some doubt as to when his photography business began. Manuscript records held in the National Library of Scotland give the first two dates below for his photographic studios. The Fife Family History Society gives the other two dates.
Studios in Fife
- 1853-... : Leven [NLSR]
- 1860-... : Wemyss [NLSR]
- 1866?-67: Leven [FFHS]
- 1867-84: Kirkcaldy [FFHS]
He later opened a branch studio in
- 1890: Kirkcaldy [FFHS]
John Patrick died in Kennoway in 1923.
His son, James Patrick, died in 1933.
2.
John Patrick
Photographic Studios in Edinburgh
Edinburgh Studio
As well as having photographic studios in Fife (see above) James Patrick had a photographic studio in Edinburgh, first in his own name, then in partnership with his son, then sons.
The Edinburgh & Leith Post Office Directories give the following dates, addresses and names:
- 1884-1888: Comiston Road: John Patrick
- 1889-1912: 52 Comiston Road: John Patrick
- 1890-1895: 52 Comiston Road: John Patrick & Son
- 1896-1912: 52 Comiston Road: John Patrick & Sons
Edinburgh Photographic Society
John Patrick joined Edinburgh Photographic Society in 1886-87, describing himself as an artist living at 35 Bruntsfield Place.
3.
John Patrick
Brief Biography
John Patrick died in Kennoway in 1923. His son, James, died in 1933.
Fife Family History Society
The Fife Family History Society web site contains the following informative brief biography of John Patrick:
"PATRICK, JOHN; (1830-1923): Leven, 1853?-1867, and Kirkcaldy, 1867-1884 & c 1890-1900; b Buckhaven, 18 Jan 1830, he was originally a master baker in Leven; although adv for his photographic business stating that it was est in 1853, this date seems to refer to his baking business, for when his dau, Mrs Jessie Patrick Finlay (1857-1933), the Fife poet and author, was born in Leven on March 15 1857, he described himself on the birth certificate as a "master baker".
By the beginning of 1858, when he became agent for the "Fife Herald" of Cupar, he seems to have given up baking for bookselling; his bookshop was at 71 High Street, Leven; it was not until May 1866 that he disposed of his bookselling business to David Malcolm, and set up a photographic studio in his own property at the Links of Leven, which he called "Photo Villa;"
In Aug 1867 he left Leven for Kirkcaldy and set up business at 194 High Street, removing to Wemyssfield in Oct 1869.
In May 1884 he removed to 5 Coniston Road, Edinburgh, and sold his studio in Kirkcaldy to R G Rettie; in Edinburgh, he took his son, James Patrick, into partnership under the firm of JOHN PATRICK & SON, later J PATRICK & SONS (1897-1912), and a branch was opened in Kirkcaldy (Wemyssfield) in c 1890 (see Kirkcaldy Directory, 1894); he retired from business in 1912, and in 1917 went to reside with his dau, Mrs J P Findlay in Kennoway, where he died May 19 1923."
Fife Family History Society web site
Adverts
John Patrick advertised on the back of his cabinet prints:
"Portraits painted from life or from photographs. Local views and others throughout Fife."
4.
John Patrick
Advert
and reply received from
Andrew Young
In 1868, at the age of thirteen, the artist and photographer, Andrew Young replied to an advert that read:
ADVERTISEMENT
"Boy wanted, with a bias for drawing
Apply John Patrick, Kirkcaldy"
The details above are from a leading article in 'The Practical Photographer', December 1895 [pp. 353-360]. This article included:
a) photographs of Andrew Young, 1871, 1887, 1895
b) portrait and a landscape photos by Andrew Young
c) paintings by Andrew Young
d) a photograph of the Granton-Burntisland ferry by Andrew Young
[The Practical Photographer, Dec 1895, before p.367]
5.
John Patrick
and
Thomas Carlyle
John Patrick met and photographed the philosopher and writer, Thomas Carlyle in Fife in the autumn of 1874, when Carlyle was aged 79.
Patrick exhibited his Carlyle portrait at the National Exhibition in Edinburgh in 1908. The photo is now held by Kirkcaldy Public Library. Other copies were sold in America and Carlyle hung a copy in Carlyle House, London. Carlyle went on to photograph all the places in Scotland and London closely associated with Carlyle.
[Scots Magazine Date?]
6.
John Patrick
Books
John Patrick produced several books:
- [no date]: "Photographic Views of the Fife Coast"
- 1890: "Photographic Views of Kirkcaldy and Vicinity"
- 1900: "Images of Romantic Edinburgh"
- 1904: "Edinburgh in Pictures"
7.
John Patrick
Exhibitions
John Patrick entered portraits and landscapes in the PSS Exhibitions in 1856, 1858 and 1864, the 1886 International Exhibition of Industry, Science and Art and 1890 EPS Exhibition.
He won a top award, in the 1902 Dundee Exhibition for his portrait of Thomas Carlyle, taken in 1874. [NLSR]
An exhibition was held (when?) featuring 20 of John Patrick's Platinotype photographs from the Edinburgh Public Library Collection on the subject of "The Early Home and Haunts of Robert Louis Stevenson" [Derek Johnston]
[Edinburgh Evening News article: 6 Nov 1943]
8.
John Patrick
Photographs
John Patrick produced a series of post cards of Swanston, a village in the Pentland Hills to the south of Edinburgh, and a post card of Holyrood Palace, Edinburgh. These he published in his own name.
He also photographed the 'Pictish' symbols in the Wemyss caves. He wrote an account of these markings which appeared in the Antiquarian Society's Proceedings and Publications
[A copy is held by the Royal Commission Royal Commission on the Ancient and Historic Monuments of Scotland]
John Patrick moved to Edinburgh opening a studio in 1884, specialising in portrait and landscape photography in 1884. attracted to Edinburgh by the literary connections [Scots Magazine Date?]. The studio was visited by many artists. John Patrick continued to run this studio until shortly before the outbreak of the First World War - sixty years a professional photographer! John Patrick died in 1923 at the age of 92.
John Patrick's photographs of these artists were hung around the walls of his studio. John Patrick was also a journalist, writer and artist. Nineteen of his watercolours were hung at the Royal Scottish Academy, 1880-86.
[Scots Magazine Date?]
9.
John Patrick
Photographs in Collections
Photo
1.
Entrance to Portobello Pier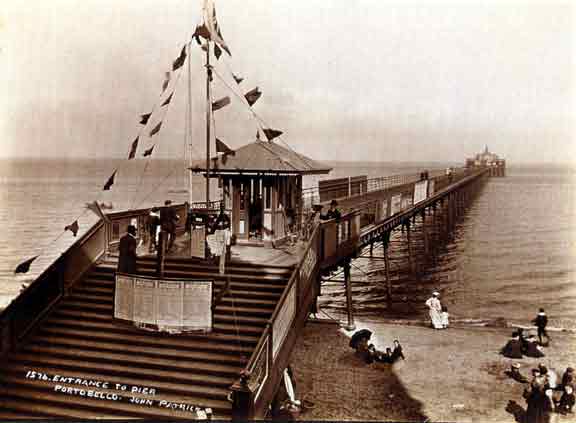 © Reproduced by courtesy of Edinburgh City Libraries and Information Services
Photo
2.
View from the North end of the Forth Bridge, under construction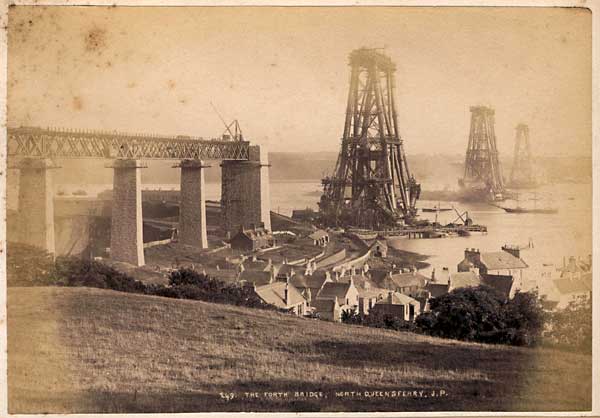 Photo
3.
Skating in Edinburgh
The Scottish National Portrait Gallery's Collection includes an attractive photograph of skaters on St Margaret's Loch, Queen's Park, Edinburgh, by John Patrick
Photo
4.
Golfing in Fife
John Patrick took some early photographs of golfers in Fife.
Photo
5.
Royal Visits to Edinburgh
Both Edinburgh Public Library has many photographs of Edinburgh by J (John or James?) Patrick.. These include photos of Royal visits to Edinburgh in 1893 and 1903 and a photo of a parade of horses with The Duke & Duchess of York Driving up the Mound.
Photo
6.
Carved Stones
John Patrick, in 1902, photographed carved stones in the caves of East Wemyss, Fife. These stones had been discovered in 1865, but John Patrick was the first to photograph them.
These stones were described by his daughter Jessie Patrick in an article published in The Reliquary and Illustrated Archaeologist. The photographs and descriptions are now held by the Royal Commission on the Ancient and Historical Monuments of Scotland (RCAHMS).
Lesley M Ferguson, RCAHMS